UPDATE:  Filed under "Travel Tips" because the comment section has tips on traveling in San Francisco.  Feel free to add some if you'd like!
It's going to be a short week here at Cookie Madness, because on Thursday I'm shipping out! For the first time ever, I will be going to San Francisco where I plan to spend part of the time meeting other bloggers and part of the time wandering around aimlessly – which is my favorite thing to do in new cities.
The trip would be more productive if I had a small laptop or an iPhone, but I am having a hard time jumping on the bandwagon. I went to the mall yesterday and the Apple store looked like a nightclub. They had a rope in front and a security guard. "Can I go in and look at a Power Book?" I asked. "No, because we don't have anyone to assist you. You have to go the end of the line." I was kind of miffed for 10 seconds, then got over it and went to The Gap.
So anyway, I am debating whether to borrow (and lug) Fuzz's large Dell laptop or just take a spiral notebook and update Cookie Madness from various Internet cafes….if there are any. I suspect most places are just set up for wireless.
Anyhow. I did take some time off from obsessing about San Francisco to try a recipe for brownies in cookie form.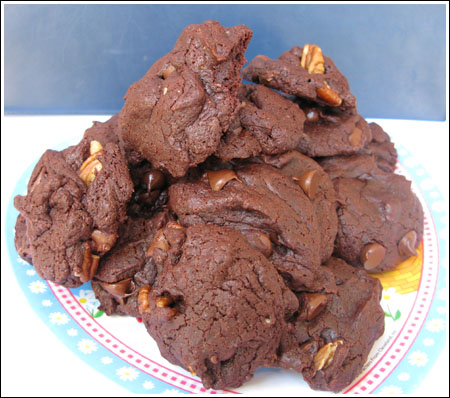 One Bowl Chocolate Brownie Cookies
6 ounces semisweet or bittersweet chocolate
4 ounces unsweetened chocolate
6 tablespoons butter or margarine
1 1/4 cups granulatedsugar
3 large eggs
2 teaspoons vanilla
1 teaspoon baking powder
1/4 teaspoon salt
1 cup (4.5 ounces) all-purpose flour
1 cup toasted walnuts or pecans, toasted chopped
3/4 cup semi-sweet or bittersweet chocolate chips
Preheat oven to 325 degrees.
Combine both chocolates and butter in a microwave safe bowl; microwave on high for 30 seconds. Stir and repeat until melted. Alternatively, if you are using newer model more power microwave, use the 50% power setting. Or skip the microwave and use a double boiler.
With a mixing spoon, beat sugar into chocolate. When well mixed, beat in eggs and vanilla. When eggs and vanilla are thoroughly incorporated, beat in baking powder and salt, scraping sides of bowl and making sure baking powder is well distributed. Add flour and stir just until mixed, then stir in nuts and chocolate chips.
Drop by rounded tablespoons, 1 1/2″ apart onto parchment lined cookie sheets.
Bake 12 min. or until set. Do Not Overbake. Cool 5 min.; remove from cookie sheets. Cool completely on wire racks. Store in airtight container.
Makes 36
Related posts: