After posting last night's German Chocolate Cake photo, I checked my email and discovered that I had the date wrong for the potluck. It's tomorrow – not tonight. I was not about to take a two day old cake to a potluck, so I decided I'd cut into the cake today and share it with the neighbors before trying out one of the other German Chocolate Cake recipes.
Here's a photo of the cake cut. Read on for what I've learned….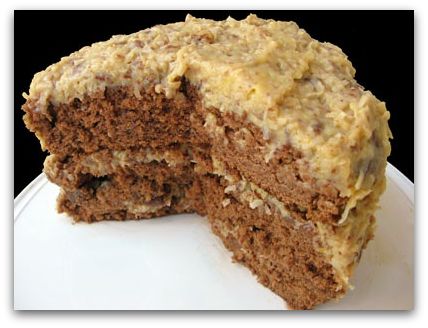 In my opinion, the recipe I used is too sweet. I realize cake is supposed to be sweet, but this was overly so — like Texas Sheet Cake, which I also don't care for. So if you are okay with Texas Sheet Cake and have never had a problem with German Chocolate Cakes in the past, then you might as well stick with the original recipe which is similar to what I used and written on the box of German's Chocolate. You'll recognize the proportions of 1 cup butter, 2 cups sugar, 4 eggs, 1 cup buttermilk, 2 cup all purpose or 2 1/2 cups cake flour etc.. From here on out, I will avoid these proportions — traditional or not.
Now I'm kind of glad I got the potluck dates mixed up because I can make a new and better cake. I'm thinking either another retro cake (Tunnel of Fudge?) or trying a better German Chocolate Cake recipe.
Here are a few German Chocolate Cake recipes that seem like they might be slightly less sweet, yet still have the characteristics of a traditional German Chocolate Cake.
If you have any great German Chocolate Cake recipes that aren't too sweet (2 cups flour to 2 cups sugar) let me know!
Kraft's Modernized Version — Calls for slightly less sugar. They've made it in a sheet pan for convenience, but I think it could still be made as a layer cake. Most of all, I like the proporions of ingredients.
German Chocolate Cake made with sauerkraut and frosted with German Chocolate Frosting – This one sounds interesting, less sweet and has sauerkraut. I can't stand sauerkraut, but I think I'd like it in a cake! Not very traditional, though.
Allrecipes Cake – This one is similar to the traditional version but has ½ cup less sugar. It also has fewer eggs. I have a feeling it will still be on the sweet side.
David Lebovit'z cake – Sounds good, but the syrup is putting me off a little because I'm worried about it adding too much sweetness. Still, DL is trustworthy so maybe…
Epicurious Inside Out – This is too far from traditional. I know it's a great cake, but it seems like a chocolate coconut cake and not really German chocolate.
Global Gourmet – Looks good, but makes a huge cake.