Hello from Austin!
It's good to be home, but I'm dealing with post-vacation let down and am not very gung ho on settling back into normal life. We had fun exploring Chicago and want to go back, but there are so many other places to see and time and resources are limited. I've been thinking about finding a travel oriented job, but am not sure of in what capacity that would be or where I'd fit in. And what would happen to Cookie Madness?? I couldn't stop cookie blogging! So I guess it's time to sit back, relax and start thinking about new and future trips.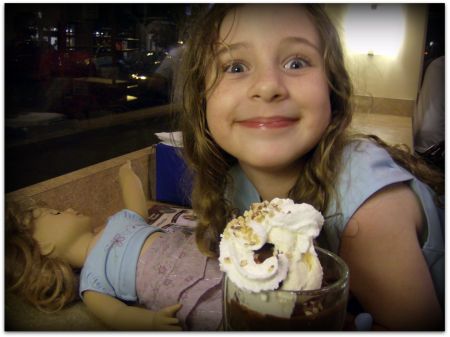 As for Chicago, we chose the right week to go. The weather was sunny and warm and there was a lot going on in town. The Air & Water Show is always fun. I used to watch it from the top floor of the condo building I lived in in the nineties, but this time I watched it with my daughter on the beach. It was funny sitting on the beach with my friend Josie and Fuzz, thinking how I'd wandered the city all by myself back in my twenties never thinking 15 years later I'd be on the beach with my own child.
We wandered through my old neighborhood, Sandburg Terrace, which sits on the edge of both Old Town and Lincoln Park. I showed Fuzz my old building, the old grocery store, and Second City, where some of my old friends worked. I showed her restaurants I used to go to on dates and places I used to ride my bike. At one point, we got lost in Lincoln Park, and I remembered how I used to get lost in that area even when I lived there! The streets are confusing and we had to stop and ask people for directions more than once. Fuzz couldn't get over how nice people were and willing to stop and help us.
The food was good too. From the moment you get off the plane in Chicago – at both airports, you smell it. The Austin airport smells like barbecue, but the Chicago airport smells like a mixture of everything delicious. Midway, maybe because it's smaller, smells even better than O'Hare. I'd never flown into Midway before, but I really liked it.
We used a car service called La Salle Limousine. They were on time and very friendly. I'd use them again. And as mentioned, our two hotels were Hilton Suites and Intercontinental. In hindsight, I think I like staying more in the center of Michigan Avenue than on the edge near the beach. The center put us closer to The Loop, subway stop, Whole Foods, Trader Joe's and Navy Pier. Staying down near the beach was nice, but required a good deal more walking. The Intercontinental was very nice and had the best pool in the city, but there are other good hotels in that area like Embassy Suites, The Conrad, the Omni and of course The Peninsula which is going to be my big splurge hotel one day. But I think we'll be staying at The Intercontinental more since Fuzz is such a swimmer.
We didn't cover nearly as many restaurants and bakeries as I'd hoped, and we wasted one meal on a place I'd heard mixed reviews on. Of the places we liked, Spiaggia Café and Karyn's Cooked came out on top. Frontera was pretty good, but honestly, there are places in Austin were I could get similar caliber food, so next time I'd choose Topolobampo which is even more special. Fox & Obel was fun, but I didn't do any real grocery shopping there. It's hard to even scratch the surface of Chicago's food scene in 3 nights. I'd need at least 10 days.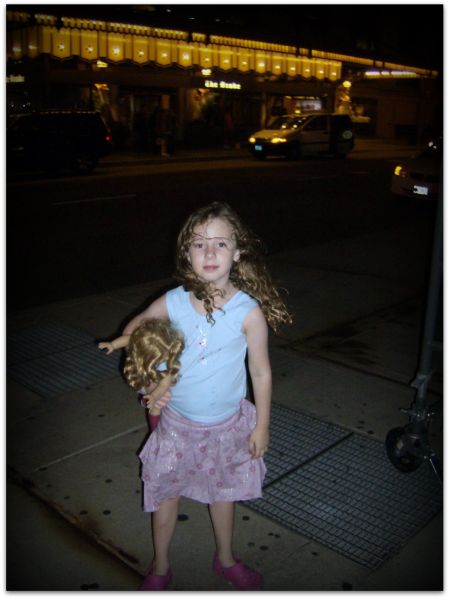 The American Girl Store is a lot of fun and I expect we'll be spending more money there over the next few years. Eating sundaes at Ghirardelli, walking through The Shedd, the water taxi to Navy Pier, petting carriage horse, seeing the American Girl Revue, swimming in the hotel pool and most of all, watching Fuzz enjoy herself in Lake Michigan were the highlights of the trip. But there's so much more to see and do. I guess I'll have to go look for other people's trip reports. I'm amazed at how many Cookie Madness readers feel the same way about Chicago.
Here's a slideshow. I'm keeping these public temporarily for those of you keeping up with the trip reports ;). Remember, I had to take these with Fuzz's "toy" digital camera because I left my super camera at home.
Related posts: