First off, here's a picture of the sky right now. Hurricane? What hurricane?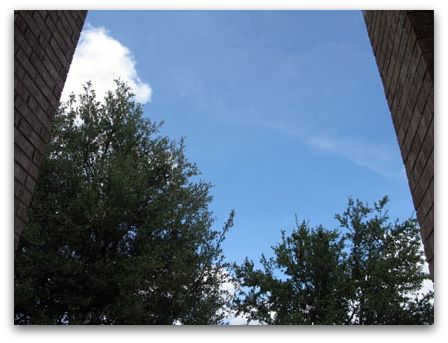 It's literally the calm before the storm and I feel a bit unsettled. We don't expect anything more than heavy wind and slight rain at our house, but the arrival of evacuees and impending disaster near the coast has got me down.
It's these kinds of days when I turn to my default cookie, chocolate chip. To liven things up, I decided to try a new one….one with the word "Ultimate" in it.
This recipe for Ultimate Chocolate Chip Cookies is from Southern Living. At first glance, it looks a lot like the Toll House recipe, but it has slightly more flour and less butter. The cookies were fine. I can't say they were outstanding and definitely not ultimate. The flavor was good, though. They're a little too chewy and more cakey than I prefer….but not bad. I'd make them again.
How's that for a confusing review? It's almost as confusing as the reviewer on Southern Living who said they were on her "Favorites" list but gave them 3 out of 5 stars. I need a second opinion. Sometimes I've overly critical with cookies.