As of yesterday, I've been on a mission to find the perfect marbled pound cake recipe. This may take a while, but I have a good start thanks to Patricia who posted Dorie Greenspan's recipe at Technicolor Kitchen. I made it this morning and it is very good. The only change I made, and this was based on other pound cake recipes with similar proportions, was to increase the salt.
Here's what the cake looks like cut. I'm taking it to the school right now. Consider this Marbled Pound Cake #1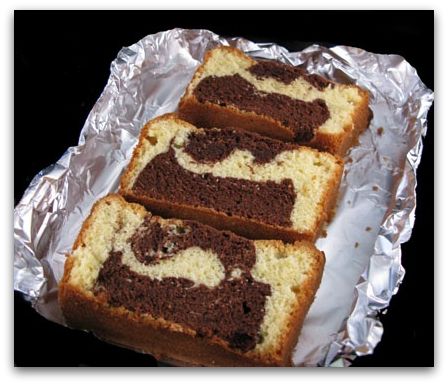 Marbled Pound Cake #1 (based on a Dorie Greenspan recipe)
112g (4oz) bittersweet chocolate, chopped
2 cups (280g) all-purpose flour**
1 teaspoon baking powder
1/2 scant teaspoon salt
226g (2 sticks/8 ounces) unsalted butter, at room temperature
1 cup (200g) granulated sugar
4 large eggs, at room temperature
1 teaspoon pure vanilla extract
Melt the chocolate over a double boiler and set aside to cool. Alternatively, you may use a heat-proof bowl set over but not touching a pan of barely simmering water.
Preheat the oven to 165ºC/325ºF. Spray a 9×5-inch (22.5×12.5cm) loaf pan with flour added cooking spray or grease with butter and dust with flour. Put the pan on an insulated baking sheet or on two regular baking sheets stacked one on top of the other.
Sift together the flour, baking powder, and salt.
Beat the butter and sugar on high speed until pale and fluffy, a full 5 minutes. You can do this with a stand mixer or with a hand-held electric mixer, but a stand mixer makes the job much easier. Scrape down the bowl and beater and reduce the mixer speed to medium. Add the eggs one at a time, beating for 1 to 2 minutes after each egg goes in. As you're working, scrape down the bowl and beater often. Mix in the vanilla extract. By hand, stir in the flour mixture and mix just until blended, making sure you've gotten rid of all lumps.
After the batter is fully mixed, transfer half of it to another bowl and gently blend in the melted, cooled chocolate. Alternate large spoonfuls of the light and dark batters in the pan, then run a kitchen knife in a zigzag pattern through the batters to marble them. Smooth the top.
Bake the cake on center rack of oven for a total of 65-75 minutes. At 45 minutes, check to see if it's browning quickly and if you notice brown edges, cover loosely with foil.The cake is properly baked when a thin knife inserted deep into the center comes out clean.
Remove the cake from the oven, transfer the pan to a rack and let rest for 30 minutes.
Run a blunt knife between the cake and the sides of the pan and turn the cake out, then turn it right side up on the rack and cool to room temperature.
Storing:
Wrapped well, the cake will keep for 5 to 7 days at room temperature (stale cake is great toasted) or up to 2 months in the freezer.
Serves 8-10
**2 ¼ cake flour may also be used. I used all purpose here.