Update: I finally updated this recipe. The first time I made it the chocolate sank a bit. In fact, it sank into the shape of a smile. Unfortunately, sunken chocolate does not make for a stunning Marbled Pound Cake, so I finally went back and re-did the recipe. Or at least the marbled part. The cake went from this.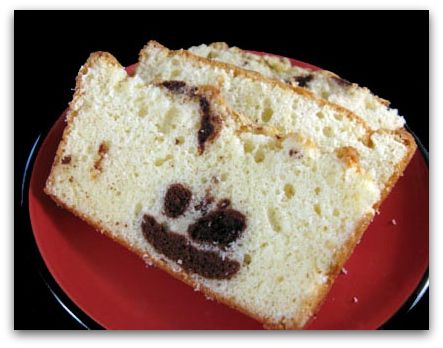 To this!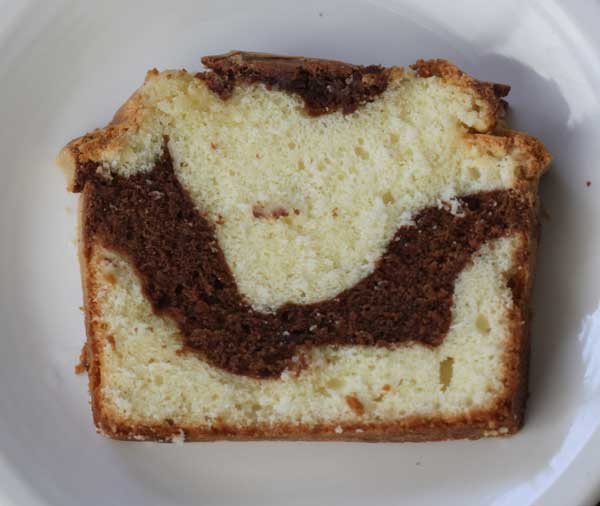 The newer version is also more stately because I baked it in an 8 1/2 by 4 1/2 inch loaf pan rather than a 9×5. Loaf pan sizes are all over the map, but I've found the 8 1/2 by 4 1/2 and the 8×4 inch sizes to make tall but substantial cakes.
This recipe is based on one Katy gave me called Mary Jo Bowen's Pound Cake, only this version is marbled with a small amount of chocolate.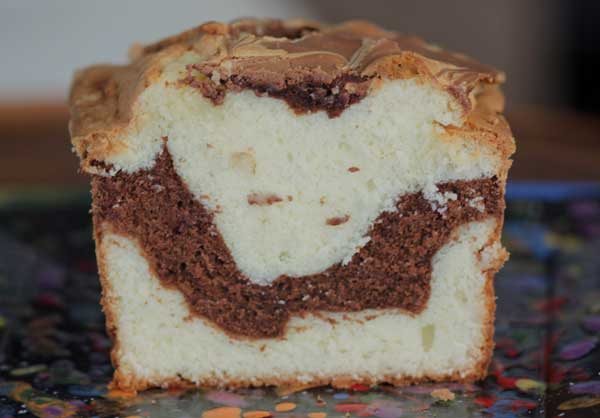 The texture is tight-crumbed, soft and tender. It's moist, but not greasy and not particularly dense. In fact, it's kind of light. The cake flour makes a huge difference and I don't know that I'd make another pound cake with anything other than cake flour, or if I had some on hand, soft wheat flour like White Lily.
The only drawback to this cake is it requires lots of bowls and beaters. Lining everything up ahead of time and having ingredients and appliances ready to go will help make baking this cake a lot more fun. It's definitely worth it, just take your time and enjoy the process. In other words, don't try to make it while you're making dinner.
I'm going to take this to the school and get some feedback on Marble Cake #1, which I left there yesterdayI hope they didn't find it too dry.
Here is the new improved version, and if you follow the directions (shortening is key because it lightens the batter) the chocolate shouldn't sink too much.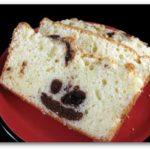 Print Recipe
Marbled Pound Cake #2
This makes a very light textured vanilla flavored pound cake marbled with chocolate.
Ingredients
1 1/2

cups

165g cake flour

1/8

teaspoon

baking soda

1/2

teaspoon

salt

1

stick

114 grams unsalted butter, cool room temp

1 1/2

cups

300 grams superfine sugar, divided use**

3

large eggs

separated, room temp**

1/2

teaspoon

pure vanilla extract

1/2

teaspoon

pure almond extract

1/2

cup

114 grams sour cream, room temp

1 1/2

oz

42 grams semisweet chocolate, chopped

1/2

tablespoon

12 grams vegetable shortening
Instructions
Preheat oven to 325 degrees F. Grease an 8 1/2 by 4 1/2 inch metal loaf pan and line with a strip of parchment paper. Dust with flour.

Sift together dry ingredients; Set aside.

Beat butter and 1 1/4 cups of the sugar until light and creamy (3-5 minutes). Beat in egg yolks one at a time. Beat in extracts. Add flour mixture and sour cream in alternating portions, beginning and ending with flour.

In a separate bowl beat the egg whites until soft peaks form. Gradually beat in the remaining 1/4 cup of sugar until shiny, soft, billowy peaks form. Do not overbeat. Err on the side of under-beating. Fold egg whites into batter.

In a microwave safe bowl, melt the chocolate and shortening together using 50% power and stirring ever 45 seconds until smooth. Alternatively, you may do this step in a double boiler and start earlier in the process.

Stir 1/4 cup of the cake batter into the chocolate until thoroughly blended, then add about another 3/4 cup of batter and stir until blended.

Layer a little over half of the white batter in the pan. Dot with the chocolate batter, then cover with white batter. Add a few more splotches of chocolate batter and drag a knife through for a marbled effect. Bake on center rack of oven for 65 minutes on center rack or until cake tests done (wooden skewer inserted comes out with moist crumbs).

Cool in pan for about 10 minutes, flip out of pan and invert. Cool completely.

To make neat slices, cut with a serrated knife.