Making back-to-back chocolate marbled pound cakes has been fun. I still love #2 and #3, but this one is also very good. In fact, it's moister and a little denser and I have a feeling my friends will choose this one over the others. The taste test is tomorrow.
This recipe is a cut-in-half and marbled version of the allrecipes.com cream cheese pound cake. Copious amounts of fat make it tender and moist, but that's a good thing because you won't eat a slice and think "Hmmm, needs whipped cream" or "I'll bet this would be good with a glaze.". This is a stand-alone cake.
Also, this one calls for all-purpose flour rather than cake flour. I said I wasn't going to use all-purpose flour for pound cake anymore, but I changed my mind. It just doesn't matter here because the all the cream cheese and butter guarantees a moist and tender cake.
Update:  This poor cake needs a better photo.  I baked this in a 9×5 inch pan, but it will be better in an 8 1/2 by 4 1/2 inch pan, so I'll take a new picture soon.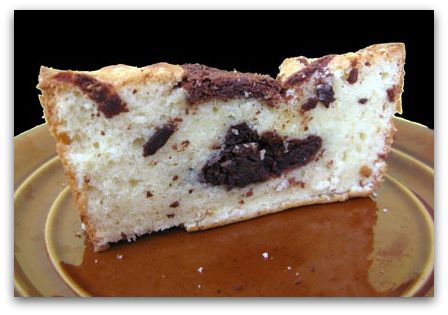 Marble Pound Cake #4
4 oz cream cheese, softened
6 oz unsalted butter (1 1/2 sticks), softened
1 1/2 cups granulated sugar (I used superfine)
1/2 scant teaspoon salt
3 large eggs, room temperature
1 teaspoon vanilla extract
1/4 teaspoon almond extract
1 1/2 cups all-purpose flour (6.8 oz)
2 1/2 oz melted and cooled semi-sweet chocolate
Preheat oven to 325 degrees F (160 degrees C). Spray a 9×5 inch metal loaf pan with flour-added cooking spray. Alternatively, use a 6 inch Bundt pan.  Note:  An 8 1/2 by 4 1/2 inch pan should be better.
In a large bowl, beat cream cheese and butter until smooth. Add sugar gradually and beat with an electric mixer for about 5 minutes. Beat in the salt. Add eggs on at a time, beating well with each addition. Beat in vanilla and almond extract. Add the flour and stir until mixed.
Spoon out about 1 cup batter (eyeball, don't measure) in with the cooled melted chocolate. Layer a little over half the vanilla batter in the pan, spoon in the chocolate, then top with what's left of the vanilla batter.
Bake at 325 degrees F for 1 hour and 10 minutes. Check for doneness at 1 hour. A toothpick inserted into center of cake will come out clean.