I once went through a phase where I put malted milk powder in just about everything — malted waffles, strawberry malt pie, malt chocolate chip cookies. After a while I got a little burned out on malt powder and forgot about some of the best malt recipes, one of which was this Malted Milk Pound Cake. It should probably be called Marbled Malted Milk Powder Pound Cake because it's a blend of two batters — malted vanilla and malted chocolate.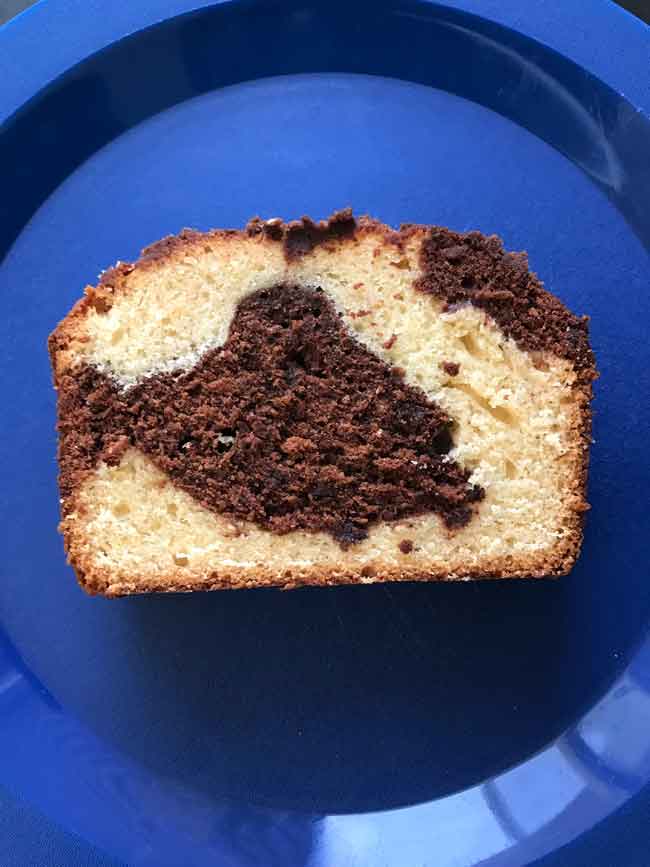 The chocolate batter is heavier than the vanilla batter in this recipe, so you have to be careful layering or you might not have much marbling, which is what happened the first time I made it.  I've also had better luck making it in an 8 1/2 by 4 1/2 inch pan which is narrower and deeper than a typical 9×5 inch.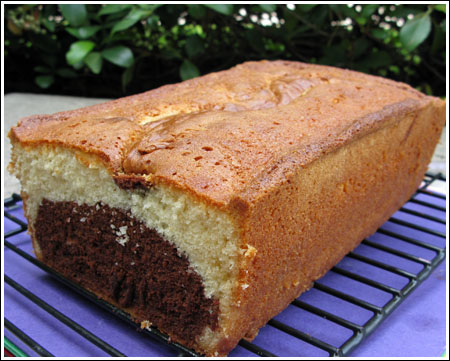 Malted Milk Pound Cake
1 3/4 cups sifted cake flour*** (6.1 oz)
1/4 cup malted milk powder — Carnation (unsweetened)
1/2 teaspoon salt
1/8 teaspoon baking soda
12 tablespoons unsalted butter, at room temperature
1 1/4 cups granulated or superfine sugar (225 grams)
2 teaspoons pure vanilla extract
3 large eggs plus 2 tablespoons lightly beaten egg
1/4 cup half & half cream
2 1/2 oz semisweet chocolate, melted and cooled
1 tablespoon chocolate syrup
Preheat the oven to 350 degrees F. Grease an 8 1/2 by 4 1/2 inch loaf pan. Line bottom with a strip of parchment, grease again and dust with flour.
Mix together the flour, malted milk powder, salt and baking soda; set aside.
Beat the butter and sugar with an electric mixer for 3-5 minutes. Add the vanilla and beat for another 3 minutes, scraping sides of bowl often. Beat in the eggs one at a time, beating for about 30 seconds after each addition. Scrape bowl and beat for another minute.
On low speed or by hand, add half the flour mixture and stir until blended. Add the half & half and stir until blended, then add the remaining flour.
Spoon out 1 cup of batter and combine with melted chocolate and the 1 T. chocolate syrup.
Pour all but about a half cup of the vanilla batter into loaf pan. Carefully pour/spread the chocolate mixture in a wide line down the center. Drop spoonfuls of vanilla batter over chocolate, then dot remaining spoonfuls of chocolate batter over top of loaf. Rap pan on counter to bring air bubbles to top.
Bake cake on center rack for 55-60 minute or until a wooden skewer inserted in center comes out clean or with moist crumbs (not batter!).
Cool the cake in the pan on a wire rack for 20 minutes. Invert the cake onto a plate then invert back onto the rack to finish cooling.
This cake tastes much better after it is completely cooled. It's even better if you cool it, freeze it, then thaw it out the next day.
*** Sifted cake flour only weighs 99 grams (3.5 oz) per cup
Adapted from Baking in America.