Earlier I mentioned making a Malted Milk Pound Cake and not being entirely happy with it. Well, after sending the pound cake to Todd's office where it was extremely well received, I decided to go ahead and post the recipe.
This is a modified version of the Malted Milk Chocolate Pound Cake from the book Baking in America. I made significant changes, so if you don't like this, you can blame me and not Baking in America.
One thing I've learned about making this or any other pound cake is that it's important to follow the directions and definitely use the correct type and amount of flour. For this recipe, I used 6.1 oz of sifted cake flour.
And finally, pound cake sometimes tastes better after it's been cooled, wrapped in foil, frozen then thawed. Something happens to the texture. Maybe that's why everyone loves Sara Lee? I'm not sure, but I do know I like pound cake better the second day and am not crazy about how it tastes straight from the oven.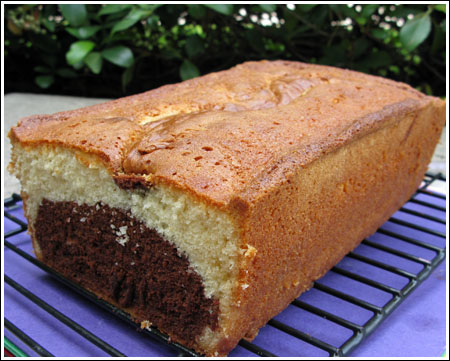 Malted Milk Pound Cake
1 3/4 cups sifted cake flour*** (6.1 oz)
1/4 cup malted milk powder — Carnation (not one with sugar)
1/2 teaspoon salt
1/8 teaspoon baking soda
12 tablespoons unsalted butter, at room temperature
1 1/4 cups granulated or superfine sugar
2 teaspoons pure vanilla extract
3 large eggs plus 2 tablespoons lightly beaten egg
1/4 cup half & half cream
2 1/2 oz semi-sweet chocolate, melted and cooled
1 tablespoon chocolate syrup
Preheat the oven to 350 degrees F. Spray a 9×5 inch metal loaf pan with flour added cooking spray. This cake is rather sticky, so if you have waxed paper, I advise you to line the bottom of the pan with a rectangle of waxed paper or parchment.
Resift the flour with the malted milk, salt and baking soda; set aside.
Beat the butter and sugar with an electric mixer for 3-5 minutes. Add the vanilla and beat for another 3 minutes, scraping sides of bowl often. Beat in the eggs one at a time, beating for about 30 seconds after each addition. Scrape bowl and beat for another minute.
On low speed or by hand, add half the flour mixture and beat only until incorporated. Beat in the half and half then the remaining flour, beating only until well combined.
Spoon out 1 cup of batter and combine with melted chocolate and the 1 T. chocolate syrup.
Pour all but about a half cup of the vanilla batter into loaf pan. Carefully pour/spread the chocolate mixture in a wide line down the center. Drop spoonfuls of vanilla batter over chocolate, then dot remaining spoonfuls of chocolate batter over top of loaf. Rap pan on counter to bring air bubbles to top.
Bake cake on center rack for 55-60 minute or until a wooden skewer inserted in center comes out clean or with moist crumbs (not batter!).
Cool the cake in the pan on a wire rack for 20 minutes. Invert the cake onto a plate then invert back onto the rack to finish cooling.
This cake tastes much better after it is completely cooled. It's even better if you cool it, freeze it, then thaw it out the next day.
*** Sifted cake flour only weighs 99 grams (3.5 oz) per cup