Hello from Cookie Madness Central! I'm back home in Austin and excited about getting back in the kitchen.
The trip was a success and thankfully, it didn't cost much. I'd been saving air miles and hotel points, so when my friend Jen suggested we meet up in New York to see a comedian, I said "See ya there!" So everything was kind of last minute. I didn't have enough Hilton points to cover the first night in the hotel, so I booked a room on Priceline and got the Grand Hyatt next to Grand Central Station.
After getting a good night's rest in the tiny but very quiet room, I pulled my luggage up 42nd street and checked into The Hilton Times Square where the room they gave me was not only large, but had an amazing view of the skyline and Hudson river. Service was friendly, beds were comfortable and room service was lightning fast. I'd stay there again if it weren't located in Time Square.  I've made a note never to stay in that area again because, well, I just won't.
The weather was cool and sunny so I spent the morning shopping downtown, visiting Ground Zero and wandering around Greenwich Village. Hours passed and it was time to meet up with Jen and her friend Chris. Our plan was to have dinner at Craftbar then head down to the show in the East Village.
Craftbar had good wine and what little food we ate was pretty good. I'd have to go back and try everything to write any sort of food review.  What they're known for are their spectacular desserts, but we spent too much time visiting and didn't order any because we had to hurry down to the village to see the show.
We arrived at the theatre a little late and felt bad because it was extra small and it was one of those situations where the performer stops the act and says "Hey, welcome to the show!" and the rest of the room look over to see who the tardy slackers are. Turns out the only seats left were in the front row……so it was like a reward for being late! I'm not sure why people are scared of the front row, but we enjoyed the show quite a bit.
Afterwards, we parted ways and went back to our respective hotels. I needed to rest up for Sunday's big cookie tour of New York. I didn't really plan on doing a cookie tour. In fact, I would have felt lucky just to hit Levain Bakery. But my friend Taneka knows the city inside and out and was happy to guide me from bakery to bakery. Here I am at Magnolia Bakery where there was a huge line for cupcakes. Since I was sticking with chocolate chip cookies, I didn't buy anything. However, I was told their little banana puddings are the best. Maybe next time.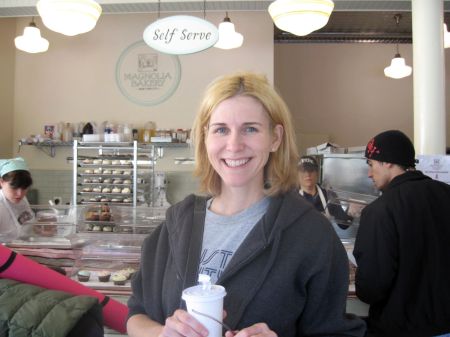 Before Magnolia, we stopped into Levain which is around the corner. Levain doesn't have much room to sit, so we had to eat our cookies on the go. We were only eating a few bites of each cookie, so this worked out well.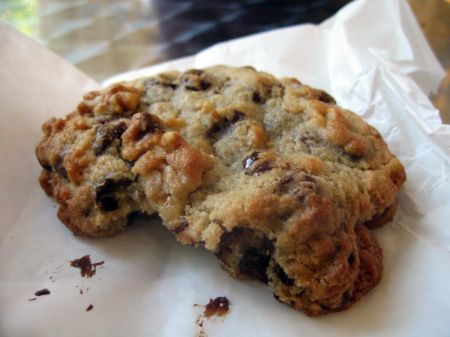 After making a few stops on Upper West Side, we made our way down to Brooklyn to see Melissa, who I met a few years ago at a cook-off and have been friends with ever since. Melissa is the person who first introduced me to Jacques Torres shop, so I am forever grateful. The last time we went, we bought chocolate, but this time we bought one of his famous chocolate chunk cookies. Here's a picture of some Jacques Torres cookies. I took it through the glass so it's not that good.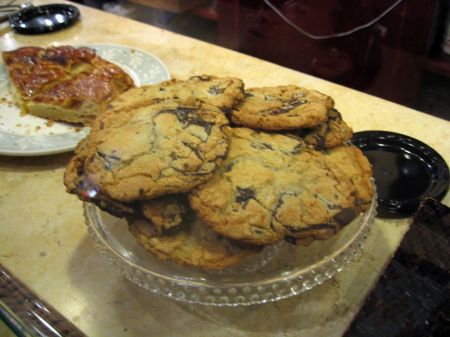 There was no room in the shop to sit down, so we took the cookies to a bakery across the street for coffee and seating. The bakery across the street, Almondine, had a lot of interesting items as well including huge fluffy white meringues. I almost bought one, but held back because meringues probably don't hold up well in backpacks.  Why don't more bakeries sell meringues?
It was fun introducing Taneka to Melissa and her son, but we couldn't stay long because we had another friend to meet. Katy, maker of the world's best pound cake and probably a lot of other things I don't know about, was waiting for us at City Bakery.
On the way to meet Katy, we walked across the Brooklyn Bridge. I can't wait to do this with Fuzz, who was bummed about not being able to go on this trip. I just know she will love the bridge. I'll post some pictures of that later, but I'm tying very quickly and need to wrap this up right now.
It was nearly 5:00 by the time we reached City Bakery, our last stop on the Cookie Tour. I sat with Taneka and Katy and pulled out all 3 cookies to do a side by side taste test. My final judgment was that all three cookies were equally good in their own special way. That sounds like I'm trying to be nice, but it's actually true.
The cookie on the top is the Levain cookie, and heading clockwise are City Bakery's cookie and JT's.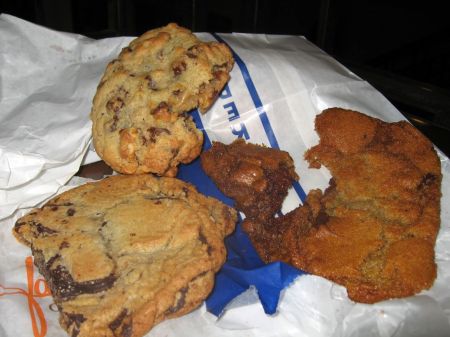 Levain's cookies were fat, moist and packed with walnuts. They were good hot, but I actually liked mine best that night after it had completely cooled. Our copy cat is pretty close, but you still need to try the real thing.
The City Bakery cookie was excellent and was more about the cookie than the chocolate. It was crisp and chewy and had kind of a burnt buttery taste to it that I liked. And yes, I definitely want to clone it! I've tried some recipes that were said to be similar to City Bakery's cookie, but none compared.
The Jacques Torres Cookie was interesting in that it had layers and layers of chocolate melted through it. You can't really tell how much chocolate is in there until you bite into the cookie and see cross section of chocolate strata. Taneka said they were best warm, but I liked mine fully set. I guess I'm the only person on the planet who doesn't love hot, warm, cookies.
After an hour of chatting, we said goodbye to Katy who headed back to the upper east side. Taneka and I headed uptown to a wine store with an unbelievable selection. I did some shopping, said goodbye, and headed back to the hotel.
That night, I ordered room service, talked to Emma and Todd on the phone and started planning our next trip to NYC. As usual, I can't wait to go back and do more of the things I missed. Next time, I may do a cupcake tour.