Last week I wrapped up a few of my favorite peanut butter cookies and gave them to a friend. The next day she told me they were too rich. This was unsettling, because as you know, I think that's the best peanut butter cookie ever. After mulling it over, I decided that my friend was using "too rich" for "too peanut buttery". Maybe she just needed a cookie with a milder peanut butter flavor?
So I had my friend in mind this morning when I saw the peanut butter cookie from the Dallas Morning News article I linked to earlier. The recipe is from the book Presidential Cookies and the peanut butter cookie is what the Carter family kept in their boot shaped cookie jar….or so the story goes. At any rate, a peanut butter cookie approved by Jimmy Carter had to be good enough for me!
I wasn't crazy about the shortening, but shortening does give cookies a good texture so I decided to go with it. Other changes were minor. I halved the recipe, increased the salt, added a little vanilla and wrapped the cookies around Reese's peanut butter cups. Okay, not so minor, but definitely good! This was a good all-purpose peanut butter cookie dough mild enough for kids, easy to work with (after chilling) and perfect for mixing with leftover Halloween candy.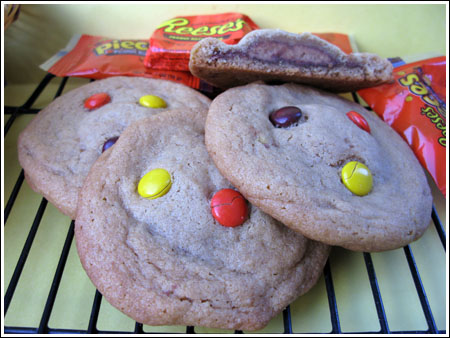 Election Day Peanut Butter Cookies
4 tablespoons unsalted butter (room temperature)
4 tablespoons shortening
1/4 cup chunky or smooth peanut butter (chunky)
1/2 cup granulated sugar
1/2 cup light brown sugar, packed
1/2 scant teaspoon salt
1/2 teaspoon vanilla
1 large egg
1/2 teaspoon baking soda
2 tablespoons warm water
1 1/2 cups sifted flour (about 6 oz)
10 Reese's peanut butter cups (the larger flat type)
3 tablespoons Reese's Pieces
Don't preheat oven quite yet.
Cream butter, shortening and peanut butter together in a mixing bowl; Beat in granulated and light brown sugar, salt and vanilla. Beat in egg.
Dissolve baking soda in warm water. Add to butter-sugar mixture and stir well. Stir in flour. Mix until dough is smooth. Wrap dough in plastic wrap and refrigerate 1 hour or until dough is firm enough to be workable.
Roll dough by hand into golf ball size balls. Working one ball at a time, split ball in half, place a Reese's in between halves and mold dough around candy to make a neat mound. Press a few Reese's pieces on top
Arrange on ungreased cookie sheets, leaving 1 to 2 inches between cookies. Bake at 350 degrees F. 15 minutes or until golden brown. Let cookies stand 10 minutes before transferring to wire racks to cool completely. Store in a tightly covered container.
Makes about 10 big cookies