Barney Butter is named after Jennifer Barney, who created it as an alternative to peanut butter. So far, it's the best almond butter I've tried. It's ultra-smooth, perfectly sweetened, and has a fresh roasted (but not overpowering) almond flavor. In fact. I could see myself eating a whole Barney Butter sandwich, which is something I can't say for all almond butters. It's sold in stores located in the western states and Florida, but you can order it on-line from Barney Butter's website.
Naturally, I had to bake something with Barney Butter, so I tested it in some Monsters. Monster Cookies are cookies made with oats and candy held together in a matrix of nut butter (usually peanut) and eggs. They are typically one of my favorite peanut butter cookies, and the almond butter seems to have worked pretty well, too. If you can't find Barney Butter yet, use a good, lightly sweetened brand of almond butter. The cookies are crispy on the edges, chewy on the inside and overall, taste like a really good and nutty oatmeal chocolate chip (or chunk) cookie. I used bittersweet chocolate chips and toasted pecans, but you could also add M&M's, unsweetened coconut, or even milk chocolate.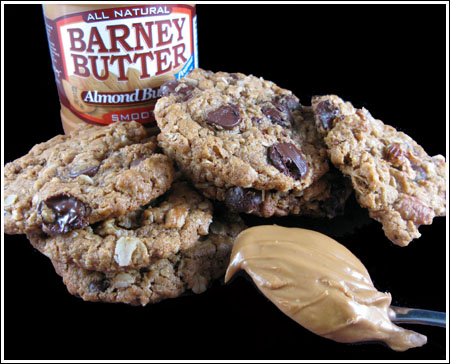 Barney Butter Monsters
3 tablespoons unsalted butter, softened
1/3 cup brown sugar
1/3 cup sugar
2/3 cups almond butter (I weighed out 6 oz Barney Butter)
1/4 teaspoon salt
1 large egg
1 teaspoon vanilla
1 1/2 cups quick-cooking or old fashioned oats
3/4 teaspoons baking soda
3/4 cup bittersweet or semi-sweet chocolate chips or chunks of chocolate
1/2 cup pecans, toasted and chopped
Preheat oven to 350 degrees F.
Cream butter and both sugars with an electric mixer; Beat in almond butter, salt, egg and vanilla. Beat in baking soda, making sure it's evenly distributed, then add oats and stir until mixed. Stir in chocolate chips and nuts.
Roll into balls about 2 inches each and place about 3 inches apart on parchment paper lined or lightly greased cookie sheets. Flatten slightly to make mounds.
Bake for 13-15 minutes or until edges are browned. Cool 5-8 minutes on cookie sheets; transfer to a wire rack to finish cooling. Note: If you make your cookies slightly larger, you'll need to use the higher bake-time.
Makes 18 cookies