Hey, it's the weekend so I'm posting an experiment. It's a chocolate chip cookie made with a technique I made up – or at least as it applies to cookies. Okay, so a million people may be doing the technique already, but if they are I didn't know it. It just seemed like a good idea, so I gave it a try and got some interesting results.
What I did was make a basic chocolate chip cookie, but instead of using the usual mixing technique, I cooked the flour and the butter together and made a roux of sorts…..a thick, crumbly not-really-a-roux, but I'm calling it that because making it reminded me of making a roux.
After I made the faux roux, I let it cool completely, put it in the processor, then pulsed in the remaining cookie ingredients. I shaped it into a big ball, put it on a baking sheet, baked it for 18 minutes and came up with this cookie. It's dry on the outside, but crumbly and soft on the inside.
If you'd like to try it, here's the recipe. The only problem is, it doesn't work very well as smaller cookies. The smaller cookies spread more and had a different consistency in the center even when I adjusted the bake time. So I am sorry to say, this recipe makes 1 giant cookie.
You can double the recipe and make two cookies, or perhaps you can quadruple the recipe and make 4, but for the first round, I recommend making one gigantic cookie. Also, if you happen to hate the cookie, you will not have wasted ingredients.
So here goes.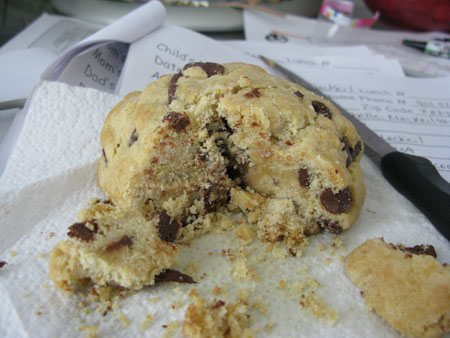 Experimental Cookie Recipe
2 ounces unsalted butter, European style (e.g. Plugra)
3.1 oz all purpose flour (weigh the flour or carefully measure 2/3 cup plus a tsp.)
1/4 scant teaspoon salt
1/8 teaspoon baking soda
2 1/2 tablespoons granulated sugar
2 1/2 tablespoons packed brown sugar
1 tablespoon beaten egg
1/8 teaspoon vanilla extract
Small handful of chocolate chips – milk chocolate actually taste great here
European style butter works best, but if you don't have any, you can use regular. Most important tip is to let the cookie cool completely. These aren't very good served warm. They need to go through the whole cooking and cooling process. And, so you know what to expect going into this, these aren't chewy.
So start by making the roux. To do this, melt the European style butter in a saucepan set over medium heat. Slowly stir in the flour and stir the flour around in the butter, coating it well, for about 3 minutes. You should end up with a thick, dry, doughy, looking mixture. It will be thicker than a typical roux. Set it aside to cool. At this point, I like to just dump it in the processor bowl and let it cool there.
Add the salt and baking soda to the flour mixture and pulse to mix. Add both sugars. Pulse to mix. Add in the egg and vanilla then pulse until moist. Dump crumbs into a bowl. If mixture is still warm, let it cool before adding the chocolate chips. Mixture should look like a bowl of crumbs, but it will hold together when you form it.
Add the chocolate chips. Use your hands to mold the crumb/chip mixture into a big fat 8 oz ball.
Set the big ball on an insulated cookie sheet and bake at 350 for about 18-20 minutes. You can bake it as few as 18 minutes (for a softer inside) or up to 21. It won't brown much at all. In fact, it won't look very tasty. Let the cookie cool on the cookie sheet for about 10 minutes. Transfer it to a rack to cool for another 20 minutes or so, then put it in the refrigerator to hasten the process. Waiting is the hardest part. Remove from the refrigerator and let sit at room temp for a while. Now cut into it with a knife and serve it in little wedges.
Makes 1 giant cookie
Related posts: