Today's Flourless Peanut Butter Cookies recipe comes from Taste of Home via a blog called Food, Family and Friends. It's a great recipe for kids who are on holiday break and looking for something to do.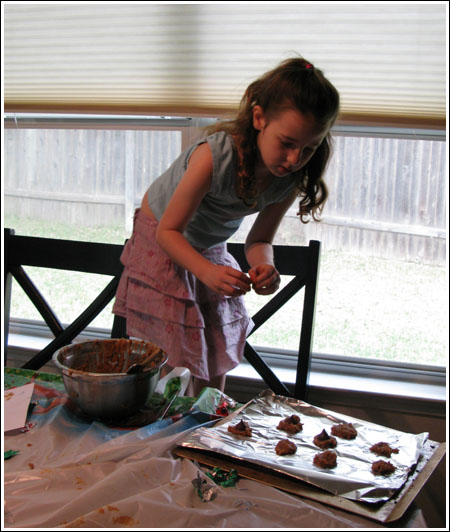 This required very little adult supervision. I put all the ingredients on the table, gave the girls a copy of the recipe and told them what to do. To make things easier, I pre-measured the peanut butter, sugar and egg, but let the girls have the super swell job of unwrapping the Hershey's Kisses.
What's great about Flourless Peanut Butter Cookies is that along with providing 30 minutes worth of entertainment, they're really good. They are on the sweet side, so it's best to use a peanut butter that's not too sweet. I used Smart Balance, but I think Skippy Natural would be a good choice too.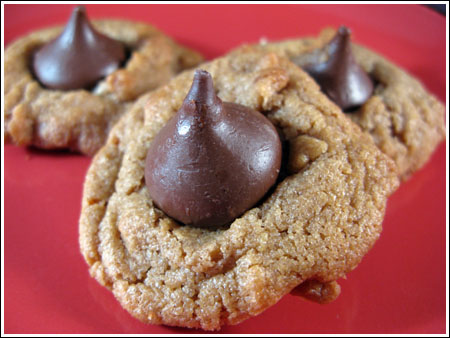 Flourless Peanut Butter Cookies
1 large egg
1 cup peanut butter (Smart Balance or Skippy Natural) (9 oz/260 grams)
1 teaspoon vanilla
1 cup sugar** (7 oz/196 grams)
Cinnamon Sugar (optional)
24 unwrapped Hershey chocolate kisses
Preheat oven to 350 degree F. Line two cookie sheets with foil.
Mix together the egg, peanut butter, vanilla and sugar. Our dough wasn't thick enough for rolling, so we just dropped mounds of it on the cookie sheet. Sprinkle with cinnamon sugar if desired (we didn't).
Bake one sheet at a time for 12 minutes. Pull the cookies from the oven and quickly stick a Kiss in the center. Let sit on cookie sheet for 3-5 minutes; transfer to a rack to cool.
**The original recipe calls for 1 cup granulated, but I used a mixture of 2 parts granulated and 1 part brown. Since brown sugar weighs a little more than granulated sugar, use 2/3 cup granulated sugar and 3 tablespoons of brown or use any combination you like, but weigh out 7 oz.