I was pretty happy with those banana muffins and decided to do a sweet potato version as well. I had a gigantic sweet potato leftover from Thanksgiving, so why not? I noticed the batter needed some adjustments as I went along, so this version is slightly different than the banana version with more yogurt, an extra egg white and a bit of honey. Again, I was happy with the results even though these muffins are a bit different than your usual muffins.
These muffins are a little over 3 oz each and according to Mastercook, have 225 calories, 7 grams of fat and 9 grams of protein – and includes the topping of pecans/sugar/cinnamon. If you leave that off, calories would be slightly less, but the muffins are big and dense and need something to kind of break up the texture. In fact, I recommend throwing in even more pecans.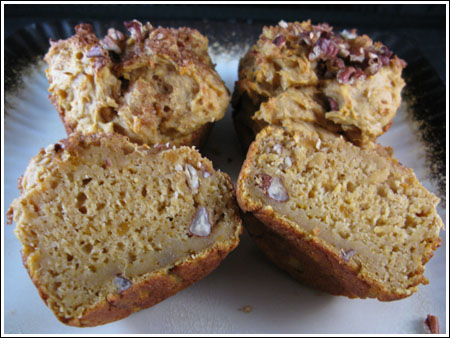 Sweet Potato Muffins with Protein Powder
1 cup white whole wheat flour (4.5 oz) – spoon and level if no scale
1/2 teaspoon baking soda
1/2 teaspoon baking powder
1/2 scant teaspoon salt
1/4 teaspoon cinnamon
2 large egg whites, lightly beaten with a fork
6 tablespoons protein powder
2 tablespoons vegetable oil
1/3 cup vanilla yogurt
1 teaspoon vanilla
2 tablespoons turbinado sugar
1 teaspoon honey
8 ounces mashed cooked sweet potato (slightly heaping cup)
Topping: 1 teaspoon turbinado sugar mixed with ¼ teaspoon cinnamon and 1 ½ tablespoons chopped pecans.
Preheat oven to 350 degrees F. Spray 6 muffins cups with flour-added cooking spray
Thoroughly stir flour, baking soda, baking powder, salt and cinnamon together in a bowl; set aside.
Combine egg whites, protein powder, oil, yogurt and vanilla and beat well (I just used a spoon) in a medium mixing bowl. Beat in the turbinado sugar, honey and sweet potatoes.
Add flour mixture to sweet potato mixture and stir just until mixed – batter should be thick. If you like, throw in some pecans.
Using a generously rounded quarter cup measuring spoon, scoop up dough and divide evenly between 6 muffin cups. Bake for for 18-22 minutes minutes, or until a wooden pick inserted in center comes out clean. Cool before eating.
Yield: 6 muffins