Some people attribute this cookie's deliciousness to the first step – soaking the eggs, raisins and vanilla together for an hour before assembling. I'm not sure how soaking the raisins in eggs is any different than plumping and draining raisins in water or juice, but these cookies are so delicious I'm scared to make changes.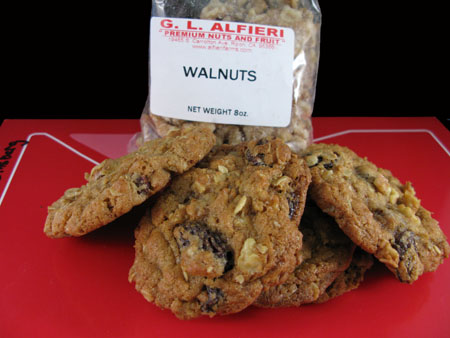 Old Fashioned Oatmeal Cookies
MAKES 6 DOZEN
3 large eggs
1 teaspoon vanilla extract
1 cup raisins
1/2 cup shortening (3 ½ oz)
4 oz unsalted butter, room temperature
1 cup dark brown sugar
1 cup granulated sugar
2 1/2 cups all purpose flour (11.25 oz/315 grams)
1 teaspoon salt
2 teaspoons baking soda
1 teaspoon cinnamon
2 cups old fashioned oats
1 cup toasted walnuts, coarsely chopped
Combine eggs, raisins and vanilla in a medium bowl and let stand for an hour.
Preheat oven to 350 degrees F. Line three cookie sheets with parchment.
Cream shortening and both sugars in a large mixing bowl using high speed of an electric mixer. Scrape sides of bowl.
Stir together the flour, salt, baking soda and cinnamon. Add flour mixture to sugar mixture, stirring just until flour mixture is incorporated – mixture will be kind of dry. Stir in the egg/raisin mixture, followed by the oats and nuts. When ingredients are well mixed, shape dough into 1 ½ inch balls and place 2 inches apart on parchment lined cookie sheets. Bake at 350 for 12-14 minutes. Let cookies cool on cookie sheet for about 3 minutes, then carefully transfer to a wire rack to finish cooling.