If you order orange juice in Italy, chances are you'll get a deep, dark, juice made from blood oranges grown in Sicily. I've never been to Italy, but was told this by a friend who works for Aliseo Foods – a company that sources Italian products and sells them here in the states. One product they are demonstrating right now is fresh squeezed, all natural, not-from-concentrate, no-sugar added blood orange juice.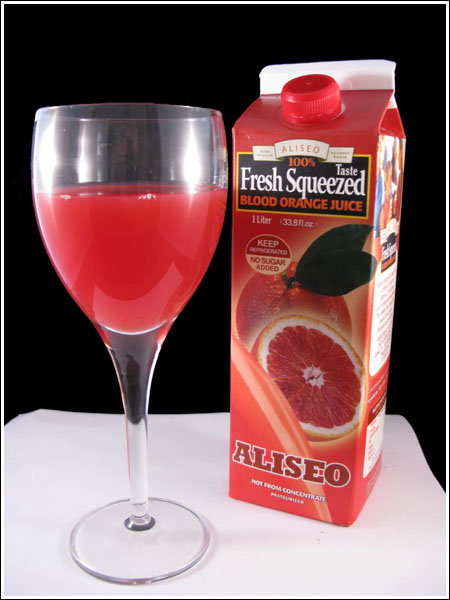 Heather gave me a sample of blood orange juice and I liked it a lot. Unfortunately, it's not produced here because we simply do not have enough blood oranges. It takes a lot of blood oranges to make a liter of juice, and in Aliso's, they use three different kinds — Moro, Tarocco and Sanguinella. The combination of these 3 varieties gives the juice a flavor which reminds me of a less acidic orange- grapefruit juice. In fact, some people like to mix a little blood orange with their grapefruit juice to mellow it out.
Blood orange juice also has some nutritional advantages. As we've learned over the past few years, deeply pigmented fruit and vegetables usually contain the most anti-oxidants and blood orange is high in phyto-nutrients and vitamin C. With all of its benefits, I predict we'll be seeing a lot more if it in the next few years.
If you are lucky enough to live near a Trader Joe's or Whole Foods, then you've probably tried blood orange juice. You may have even used it in some recipes. I pasted a few of Aliseo's below, but a simple Google search brought a ton of results for things like mixed drinks, sorbet, simple syrups and the like. Most of them not baked goods. I haven't had much success incorporating blood orange juice into baking, but if you have some ideas, send them my way. For now, I'm cooking with it and serving it in drinks. I also came up with an icebox cake which I'll post in another post.
If you'd like the chance to get some free blood orange juice, here it is. For your chance at having a carton shipped straight to you, in the comment section, tell me something about Italy. I really want to go, but have no idea where or how to start planning my trip. Tell me and other readers something helpful in planning a first-ever trip. If you want to win the free juice but have never been to Italy, comment on where you think you might like to go and say why.
I will pick the winner randomly.  Giveway ends tomorrow at 7:00 AM CST.
Blood Orange Margarita
1 cup Aliseo Blood Orange Juice
2-3 tablespoons Simple Syrup
8 oz Premium Tequila
7 oz Triple Sec or Cointreau
1 Blood Orange slice for garnish
Combine all ingredients in a large pitcher. To prepare
a drink, pour 6 ounces into a shaker filled with ice and
shake. Wet the rim of a margarita glass and dip in
sugar then pour and garnish with a blood orange slice.
Blood Orange Dessert Bars
Crust:
1 cup butter, softened
2 cups flour
1/2 cup powdered sugar
Pinch of salt
Filling:
4 beaten eggs
2/3 cup Aliseo Blood Orange juice
1 cup sugar
1/4 C flour stirred together
Optional powdered sugar for dusting.
Mix all ingredients for the crust in an electric mixer until
combined and crumbly. Press lightly into 9 x 13-inch pan. Bake at
350 degrees for 10-15 minutes and cool slightly.
In the mixer bowl blend the eggs and sugar together until
smooth. Add the Aliseo Blood Orange juice and again blend until
smooth. Add the flour, mix on low-medium until well mixed.
Pour the filling into the warm crust. Bake at 350 for 25 minutes,
or until the center of the bars no longer jiggles.
Cool to room temperature, or refrigerate if you like your citrus
bars chilled. Gently dust with powdered sugar when about to
serve.
Cranberry Sauce
½ cup packed dark brown sugar
½ cup Aliseo Blood Orange Juice
¼ cup water
1 ½ tbsp honey
1/8 tsp ground allspice
1 -12 oz bag fresh cranberries
1 cinnamon stick
Combine all the ingredients in a medium
saucepan over medium-high heat and bring
to a boil. Reduce heat and simmer 10-12
minutes or until mixture is thickened, stirring
occasionally. Throw away cinnamon stick
and cool completely. This refrigerates well
and the flavor will intensify if left in the
fridge overnight before serving.
Yield: 14 servings (2 tbsp = serving)