Hey Ho! Cookie Madness is starting the week with some malty deliciousness from Baked: New Frontiers in Baking
. For those of you not familiar with the topic, Baked is a popular bakery in Brooklyn which became slightly famous when Oprah Winfrey named their brownies as one of her favorite things.
But there's more to Baked than just brownies. The book has all kinds of easy-to-make recipes with clever little twists; for instance, blondies with malt. The Baked guys called the brownies "Brewer's Brownies" because they use malt from a local brewery. But knowing that the general public (that's us) would have difficulties getting actual malt, they modified the recipe so that it could be made with malted milk powder such as Carnation, Ovaltine or Horlick's.
If you're not ready to buy the book yet, you can grab the original recipe off NPR or use my half-batch modified version the Baked Malted Milk Blondies (aka Brewer's Blondies).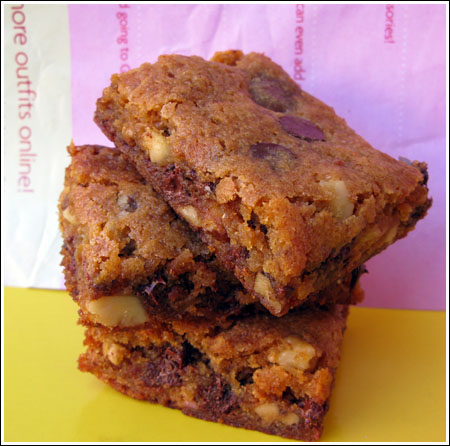 Malted Milk Blondies
Chocolate chip bars or blondies made with malt balls and malted milk powder.
Ingredients
1 cup plus 3 tablespoons all purpose flour (5 oz)
3/4 teaspoons baking powder
1/2 teaspoon salt
1 tablespoon malted milk powder
7 tablespoons unsalted butter, softened, cut into 1-inch cubes
3/4 cups plus 2 tablespoons firmly packed dark brown sugar
1 large egg
1/2 teaspoons pure vanilla extract
1/3 cup chopped malt balls
1/3 cup semisweet chocolate chips
1/3 cup toasted walnuts, chopped
Instructions
Preheat the oven to 350 degrees F. Line an 8 inch metal pan with non-stick foil or line with regular foil and spray with cooking spray.
Combine the flour, baking powder, salt and malted milk powder; stir well and set aside.
Beat the butter and brown sugar until creamy. By hand or using lowest speed of your mixer, stir in the egg and vanilla (don't beat the egg too much); Stir flour mixture into butter mixture in three parts. When last flour addition is almost blended, add malt balls, chocolate and walnuts and mix until flour disappears
Bake in the center of the oven for 25 to 27 minutes, or until a toothpick inserted into the center of the blondies comes out clean.
Transfer to a wire rack and let cool. Grasp foil, lift from pan and score into 12 bars. The guys from Bake say these are good warm. I'm sure they are, but I liked them better after they'd set.
Makes 12