Riding the Train
The Rome train station, Termini is very nice. It's busy (as you would expect) but well organized and filled with little shops and places to buy fresh food for the train ride. I bought a mixed salad and I hate to admit this, but Todd & Fuzz ordered McDonald's. They needed a French Fry fix. We'd bought tickets ahead of time so all we had to do was find our track, board the train, stow the luggage over our heads and settle in. First class isn't very expensive in the scheme of things, so we had big chairs, a table to lay our food on and overall, a very comfortable and pleasant 1 hour and 45 minutes (or so) ride into Florence.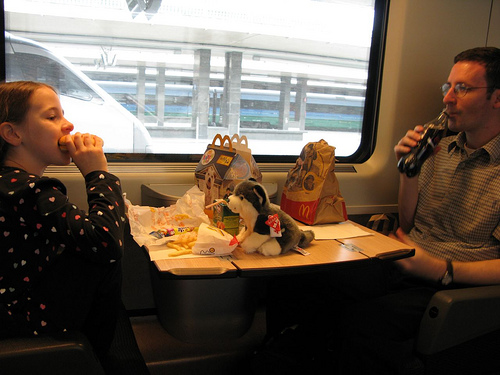 In Florence, we hailed a cab to the hotel, which was not too far from the station. It was called Hotel Silla and it was on the south bank of the Arno river in an area called "Oltrarno" which I believe means "other side of the Arno. I didn't really know what I was doing when I booked this hotel, but it had great reviews on Trip Advisor and sounded nice. Todd liked the hotel quite a bit and I will say it was "homey" and I loved the view, which is what you see in the first photograph below.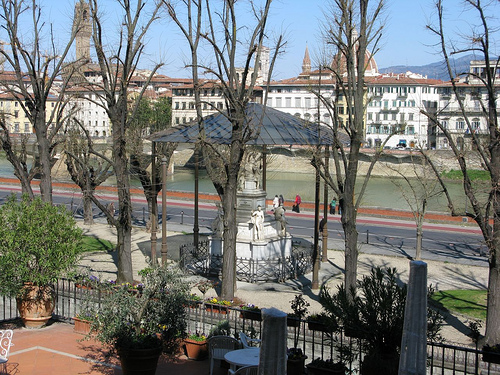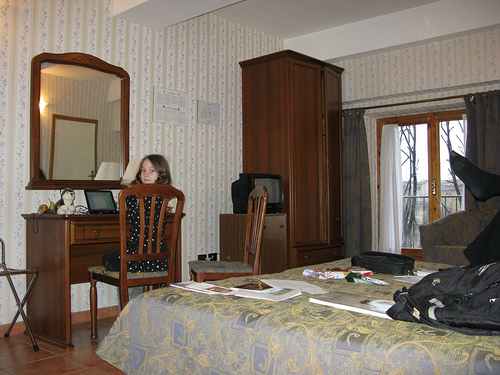 As for location, I'm on the fence. On one hand, the Oltrarno has many good restaurants, is home to the Pitti Palace, and is close to Piazzale Michaelangelo. However, to get to the other major attractions, you have to walk over the Ponte Vecchio bridge and into the main part of the city. If the weather is good and you like walking, this should not be much of an issue. But like Rome, if you are out touring and want to go back to the hotel before dinner, you will have to do a lot more walking than if you'd stayed closer to the Duomo or in Santa Croce area.
But there was something almost mystical about the Oltrarno and I loved the narrow cobblestone streets and old buildings. So maybe I would stay on the south bank again.
After checking into our hotel and logging on to the free wireless (one of the best things about the hotel, aside from the service), we headed across the Ponte Vecchio Bridge and walked across it to what is called the Duomo area. The old coffee house Gilli is there, so we ordered our treats and looked for a place to sit.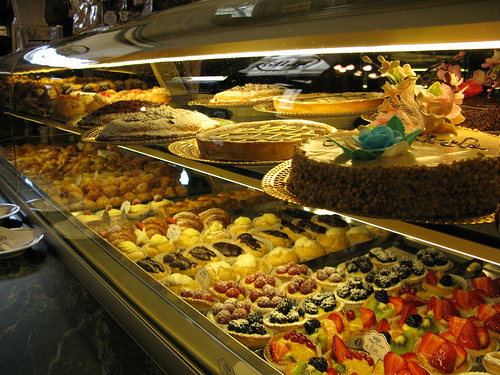 Unfortunately, you have to pay to sit down at a lot of coffee shops, but the manager felt sorry for us because we were balancing ceramic mugs and goodies and had a cute child, so he seated us at a table. After treats, we took Fuzz for a carousel ride then headed back to the hotel for our afternoon rest. This is when we noticed the rainbow over the Arno.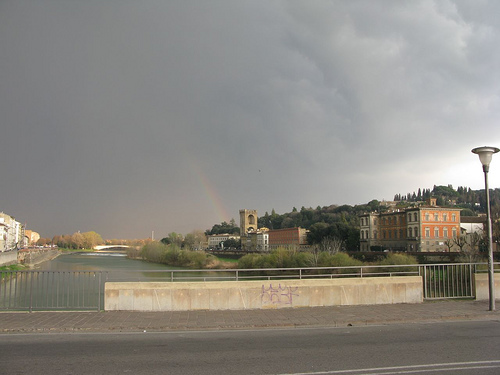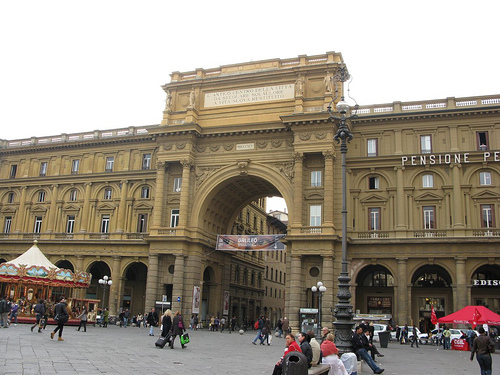 We got to the hotel just before the rain fell, relaxed in the hotel with the window open and sound of rain, then put on our coats and headed out to dinner at I Latini.
Since we were in the Oltrarno, we had to walk over a mile to dinner. I Latini was quite busy at 8:00 and there was a good mix of culture in the room – lots of Americans, Italians and French. There was no menu. The waiter told us what they had and we ordered. I ordered pasta and it was okay, but next time I would stick with meat, which is what they seem to do best. The roast beef, which Todd & Fuzz ordered, was very good. It was cooked on the bone and the best I can describe it is like a cross between roast beef and prime rib.
For dessert, we ordered chocolate cake. The chocolate cake was more like a Boston Cream Pie – a thick crust with custard and a chocolate glaze. Fuzz loved it. I wasn't sure she'd care for it since she's not usually fond of pie, but she liked it so much she ordered it again at another restaurant where it was served the same way. At that point, I Latini was our favorite restaurants…..but we hadn't been to La Giostra yet!
Day 5
Woke up at about 8:00 and went down to the hotel's breakfast room. It was nice being at a hotel that included breakfast. They had a buffet with things you see on a typical continental breakfast – juice, cereal, pastries, toast and a big boiling machine where you could dunk your own eggs and boil them yourself. Fuzz liked that a lot. Filled with breakfast, we headed back to the Duomo and climbed to the top of the cupola.
Climbing the Duomo needs to be done in the morning when you are full of energy. It's kind of creepy and if you are claustrophic you should skip it…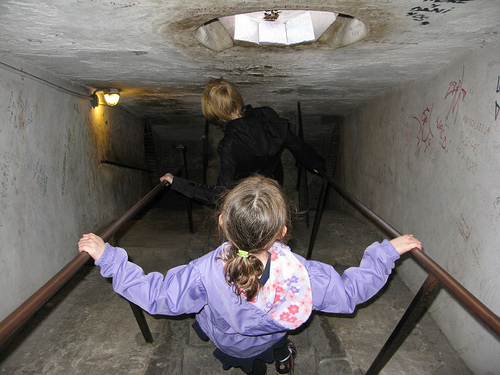 …but if you're not, do it! You can see all of Florence.
After the climb, we walked over to San Lorenzo and stood in line for the Cappelle Medicee (Medici Chapel). There was about a twenty minute wait and I'm happy to say that's the longest we waited in line. We saw the Chapel of Prince's and Michelangelo's New Sacristy then headed off to find a quick lunch.
In Florence, fast food is a little different. You walk into what appears to be a bakery, but instead of baked goods, they pretty salads and food that is already been artfully plated. You tell the girl behind the counter what you want, then she heats up the plate and gives it to you. Fuzz had roast turkey and green beans and Todd had roast chicken and vegetables. I had a very delicious salad with all kinds of mixed vegetables, lettuce and corn.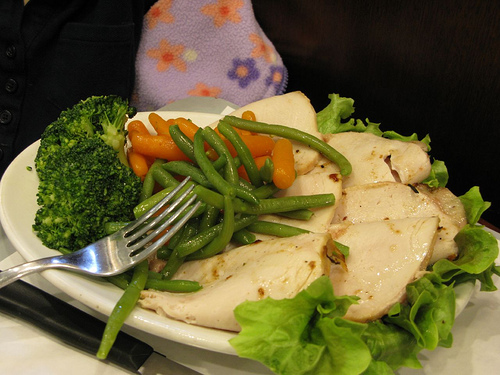 Next stop was the Uffizi. We enjoyed it quite a bit and like most people, spent a lot of time looking at the Birth of Venus. Fuzz liked the Botticelli paintings the best, but we also found one we liked the Portinari Triptych and became obsessed with finding out what the little monster represented.
We were glad we had wireless back at the hotel so we could go look it up.
Next, we found a painting of a woman who looked just like my sister-in-law. It's funny how people in paintings look like people we know…or at least I think it is. Maybe that's why in the end, I liked the Pitti Palace art a bit more because there were more portraits.
After the Uffizi we went back to the hotel to rest up for another walk to dinner. I was excited about this one – La Giostra! It was recommended by several people and it did not disappoint. The atmosphere was dark, cozy, with little twinkling lights.
Upon arrival, we were served champagne, followed by a platter of assorted antipasti & bruschetti. Fuzz ate a little of every type and said her favorite was "the brown bruschetta". Todd and I will never tell her it was rabbit. Next came the Beef Fiorentino, which is special because it comes from a special Italian cow. Todd & Fuzz seemed to like it, but I was too engrossed in my ricotta & spinach stuffed ravioli to check. As for wine, I honestly can't remember the name of the wine, but we picked one of the moderately priced ones which I believe was about 34 Euros. The waitress did a great job of helping us choose the right one.
For dessert, we had gelato at a place called Grom. We didn't eat nearly as much gelato in Florence as we did in Rome, and that is a shame.
Day 6
After waking up again at 8, going to breakfast (the lady in the breakfast room was getting used to us), we divided up. I took a walk around the Oltrarno and Todd & Fuzz went to the Leonardo Da Vinci Museum. We met up by the Duomo, walked over to the San Lorenzo, had pizza at a place called La Accademia, then went to see the David at Galleria dell Accademia. Our first thought upon seeing it was it was enormous – much bigger than we'd anticipated. We'd only seen it in photographs, but in real life you can see every detail, including the veins in David's hands.
After a walk through San Lorenzo, we headed back over the river to the hotel for another rest followed by a walk to the Pitti Palace. It was getting late and there were no lines or crowds. In fact, there were so few other people we felt like personal guests of the Medici family. This was probably my favorite gallery in Florence.
We watched them close the gallery then for dinner. My friend Rachel had recommended a pizza place in the Oltrarno called Pizzaria Davinci. It was a good choice for a casual, fun dinner — dimly lit with a wood burning oven (of course) and a varied menu. I'd go there again, if only to try some of the different pizzas. They served all kinds. For dessert, we ordered tiramisu (which was okay) and the Florentine style chocolate cake (Fuzz's favorite). We were sad that night because we were to depart the next day.
Day 7
This was our departure day, but luckily we weren't flying out until 2:50 and had some time to walk around. We walked up a street behind our hotel and discovered Piazzale Michelangelo which is a plaza with a tribute to the David statue and a breathtaking view of Florence.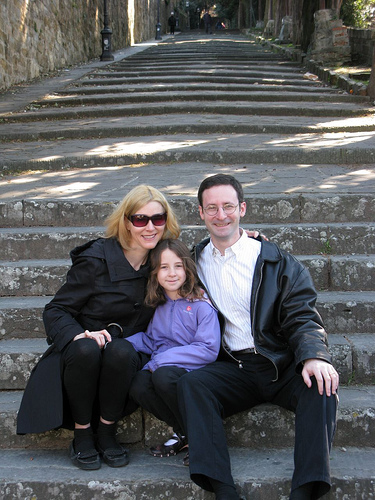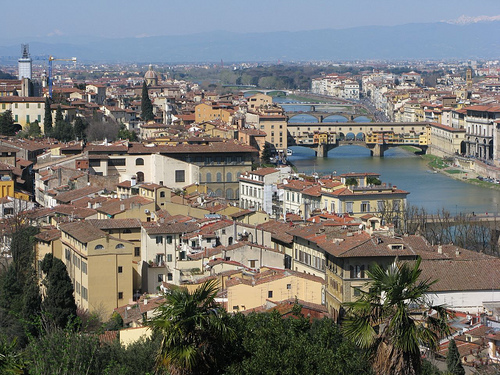 We also found a little cat colony, so I guess the people of Florence like cats too.
At noon, we packed our bags and got a cab to the airport.
As I mentioned earlier, we had a stop-over in Paris. I'd made reservations in the Paris Airport Sheraton which is very nice. They put us on the Club Floor with a great view of the planes.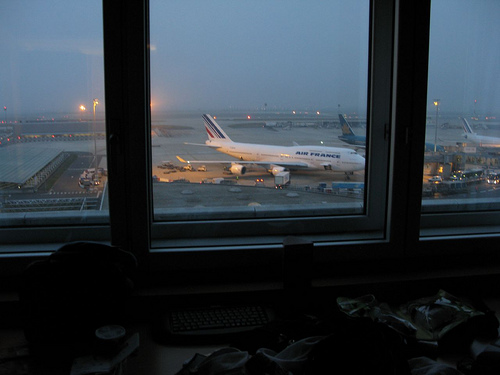 We didn't spend much time in the room, though. We put down our bags, ran downstairs and caught a train to the city. 45 minutes later, we were standing under the Eiffel Tower. The lines were ridiculously long and it was cold so we did not go up. Instead, we took a walk through the Paris streets and ended up at a restaurant called La Fontaine de Mars where we had a reservation for 8:30.
What was fun about this restaurant was, aside from the bright and cheery atmosphere, our friend Katy was there with her daughter. They'd just flown in from New York and it was fun seeing an American friend in Paris. I'd met Katy several times, but I finally got to introduce her to Todd & Fuzz and we enjoyed meeting her daughter as well. They're still in Paris as I type this.
As for the restaurant, the bread was chewy and had just the right amount of salt and the fries were the best I'd ever eaten – better than the ones I make at home. For dessert, we ordered a streuseled chocolate cake with a hot filling and a topping of chocolate ice cream. It was Kay's recommendation so I knew it would be good. It was. That dessert capped off the trip.
The next morning we woke up in the airport, checked our luggage again, and were on a flight back home.