Using the same brands of ingredients, the same size scoops of dough, the same oven and the same cookie sheets, Karen Haram bakes 6 types of chocolate chip cookies and puts them in front of a panel of 18 Kindergartners, 15 people who claim to love chocolate chip cookies and 7 food professionals.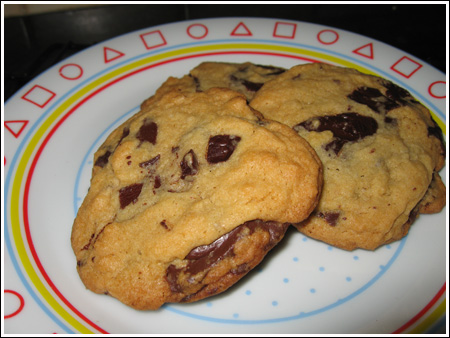 This is the list of what they tested. Try to pick the winner, then click the link below to see if you were right.
NESTLE TOLLHOUSE
JACQUES TORRES' COOKIES
MARTHA'S COOKIES
MRS. FIELD's COOKIES
POPULAR ALL RECIPES COOKIE
COOKS' ILLUSTRATED SNAGGED FROM RECIPEZAAR
Here's another link to the article. I guess it was syndicated from the San Antonio Express because now it's in the Fort Worth Star Telegram and says "San Antonio Express".  NEW LINK
Also, here's another link to the New York Times recipe which is the original (but now you have to pay for it).