I found this recipe on the back of an I Can't Believe it's Not Butter and have been making it for years.  Since then I've also seen it on the back of other margarine boxes, which is interesting since it seems to be associated mostly with margarine.  Luckily, it does work quite nicely with butter.  When made with margarine or butter, you get a slightly thick, dense, soft (but not too cakey) cookie with crispy edges.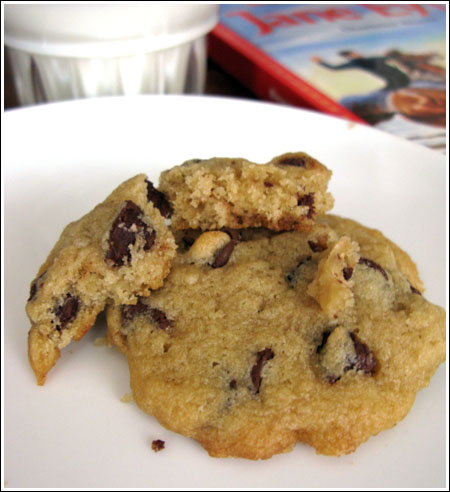 <h3>Baking Sticks Chocolate Chip Cookies</h3>
A thick, dense chocolate chip cookie recipe that works well with butter or margarine. If using margarine, use the stick type that has at least 100 calories per tablespoon.
Ingredients
2 cups all-purpose flour (250 grams)
1/2 tsp. baking soda
1 cup (2 sticks) I Can't Believe It's Not Butter!® Cooking & Baking sticks (230 grams)
3/4 cup firmly packed light brown sugar
1/4 cup granulated sugar
1 tsp. vanilla extract
1 large egg
1/2 tsp. salt
1 package (12 oz.) semi-sweet chocolate chips (2 cups)
Instructions
Preheat oven to 375 F. Have ready a parchment lined baking sheet.
Combine flour with baking soda in small bowl; set aside.
Beat the baking sticks with sugars in large bowl with electric mixer until blended, about 2 minutes. Beat in vanilla, egg and salt. Beat in flour mixture on low speed just until blended. Stir in chips.
Drop mixture by heaping tablespoonfuls, 2 inches apart, on ungreased baking sheets. Bake 9 minutes or until edges are golden. Remove cookies to wire racks and cool completely.
UNBELIEVABLY DELICIOUS VARIATIONS: Substitute white chocolate chips, candy pieces or toffee bits for semi-sweet chocolate chips.
For UNBELIEVABLY DELICIOUS OATMEAL CHOCOLATE CHIP COOKIES, substitute 1 cup oats for 1 cup flour. Try adding 1/2 cup chopped nuts or dried cranberries or raisins.