Today's  cookie  recipe came from a rather unexpected source — the back of the I Can't Believe it's Not Butter Baking Sticks box. I bought the baking sticks last week and was looking forward to putting them to the test. Would they really work well in baking? Would I not believe they were butter? I use enough butter to know.
As for why I chose the recipe on the back of the box, well #1. It's for chocolate chip cookies, and #2. The recipe has interesting proportions – one fewer egg, less sugar and slightly less flour than the Toll House recipe. And since the new butter sticks have less saturated fat than regular butter, I didn't mind that the recipe called for a full 2 sticks of it. Plus the box says "rich in Omega ALA".
I needed to make these in a hurry and since the butter sticks were soft straight out of the refrigerator, I didn't have to wait for them to come to room temperature to cream them with the sugar. The cookies were ready in a flash, but I was skeptical. I'm not a fan of cakey cookies and they looked a bit cakey…but they weren't! The edges were crispy and the middles were soft, dense and flavorful. Honestly, I didn't think the flavor was exactly like butter, but I liked it and it was noticeable.
Here's the recipe which is adapted from the I Can't Believe it's Not Butter website (and back of the box!). I'm anxious to hear what other avid bakers have to say about this one. So far, this is the only recipe I've tested it with but they have a huge database of tested recipes.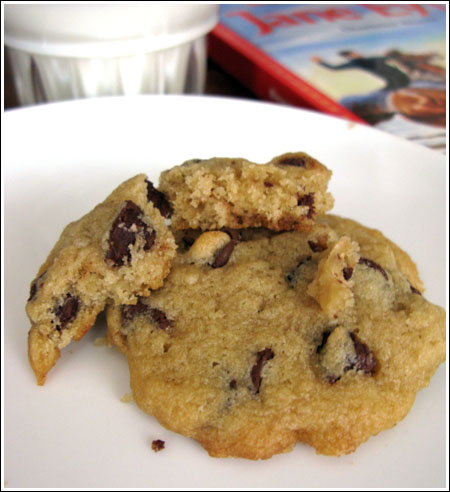 Baking Sticks Chocolate Chip Cookies
I originally attributed this recipe to I Can't Believe it's Not Butter and have since found it on the back of other margarine boxes including that of Aldi's Countryside Creamy. I like this recipe a lot because it's pretty quick to throw together and it always, without fail, gives me a thick, dense, cookie. It works quite well with margarine or baking sticks (just make sure to use the kind with 100 calories per tablespoons to get the right amount of fat), but it also works well with regular butter. If you use unsalted butter, add an extra pinch or two of salt to make up for the salt originally in margarine and baking sticks.
Ingredients
2 cups all-purpose flour (250 grams)
1/2 tsp. baking soda
1 cup (2 sticks) I Can't Believe It's Not Butter!® Cooking & Baking sticks (230 grams)
3/4 cup firmly packed light brown sugar
1/4 cup granulated sugar
1 tsp. vanilla extract
1 large egg
1/2 tsp. salt
1 package (12 oz.) semi-sweet chocolate chips (2 cups)
Instructions
Preheat oven to 375 F. Have ready a parchment lined baking sheet.
Combine flour with baking soda in small bowl; set aside.
Beat the baking sticks with sugars in large bowl with electric mixer until blended, about 2 minutes. Beat in vanilla, egg and salt. Beat in flour mixture on low speed just until blended. Stir in chips.
Drop mixture by heaping tablespoonfuls, 2 inches apart, on ungreased baking sheets. Bake 9 minutes or until edges are golden. Remove cookies to wire racks and cool completely.
UNBELIEVABLY DELICIOUS VARIATIONS: Substitute white chocolate chips, candy pieces or toffee bits for semi-sweet chocolate chips.
For UNBELIEVABLY DELICIOUS OATMEAL CHOCOLATE CHIP COOKIES, substitute 1 cup oats for 1 cup flour. Try adding 1/2 cup chopped nuts or dried cranberries or raisins.