I'm going to a food blogger potluck this weekend and have decided to take blondies, the ulterior motive being that I can get multiple opinions which should help me choose the Top 5. "Blondies" is a tough category. First, there's the question of what's in them. Should we really compare a butterscotch blondie with one that has chocolate chunks and white chocolate? For instance, the Garrett McCord blondies from Jenn's Baking Chamber, the Helms Blondie Clone, the Richard Sax blondie and the Whole Foods Macadamia Butterscotch Blondie are all dense, chewy and taste like butter & brown sugar. And in the opposite corner there are the less butterscotch focused bars such as Pat's Chocolate Chip, Dorie Greenspan's Chunky Chewy Blondies and Cooks Illustrated Blondies. And what about Congo Bars? If the aforementioned bars are blondies, then Congo bars are just blondies with coconut and should be categorized as such. And I haven't even tried King Arthur's yet….and the Tate's Bakeshop recipe in my soon-to-arrive cookbook.  So many blondies!
What I'll probably do is pick the Top 5 butterscotch blondies and call them "Butterscotch Brownies/Blondies" and pick another Top 5 called "Various Blondies".
To start, I tested some recipes back to back – the first being by two of my favorite authors, Dorie Greenspan and Chris Kimball. Their full recipes have been printed on the web many times so I've linked accordingly, but here's a quick graphic of the ingredient list so you can compare the two side by side – flour is all purpose and butter is unsalted.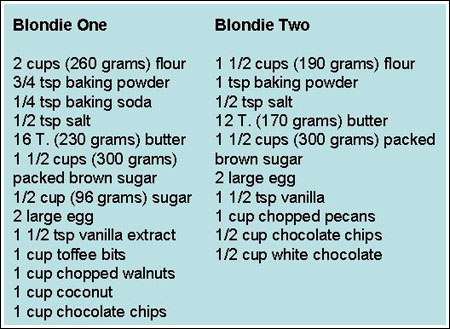 As you probably guessed by looking at the chart, Dorie's Chunky Chewy Blondies (Blondie 1) are much sweeter and richer than CI's which have a higher overall proportion of egg and are less chewy. And Dorie's have more chunks, which you can not see in this photo. I actually skimped on the chunks which was a mistake. I'll make a new batch for the "judges".  And based on the photo in her book, Dorie's blondies appears] a little different than mine, dryer (in a good way), and I'm starting to wonder if Dorie uses more flour per cup than I do — maybe 5 oz per cup as opposed to 4.5 oz per cup which would be a total 1/4 cup difference in a recipe that calls for 2 cups flour.  I'll be happy when all recipes use weights for flour instead of volume.  No wonder so many Americans hate baking.  They've had bad experiences with flour measurements.  Moving on…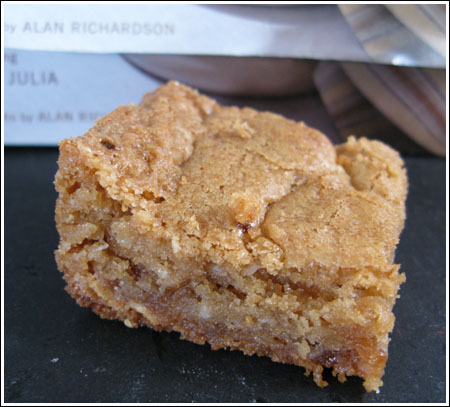 Cooks Illustrated Blondies were good. I liked them quite a bit. They were simple and I didn't miss the toffee chips one bit. Sometimes toffee chips bug me. Of the two, the CI were my favorites – but like I said, I need to make Dorie's one more time (full cup of toffee chips and all!) to be sure, and maybe I'll try using "more flour per cup" (which sounds so inaccurate and old timey, but it's true).