A few days ago I posted a picture of one of the wheat free vegan chocolate chip cookies I bought from Urth Caffe in Los Angeles. The wrapper reeled me in – "wheat free, dairy free, egg free, guilt free!" It sounded pretty horrible, really. But it was delicious! Part of why it was so good was the barley flour, which to me was a unique flavor.
Anyway, I liked the cookie so much that I decided to try to clone it as soon as I got home. It didn't quite happen that way because it took me 3 days to buy egg replacers, but I finally got my act together this morning and the recipe is complete. I saved the wrapper and put one of my new clones in it. Was that weird? Yes, but it shows the size.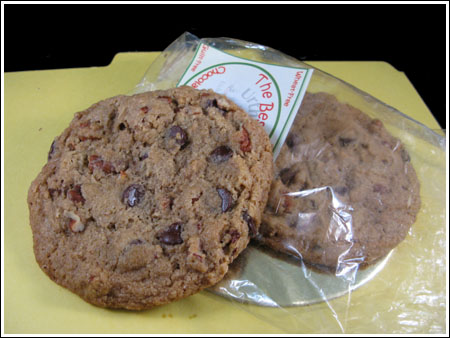 Mine may not be exactly like Urth's, but they're close enough to where I don't need to keep fiddling with the recipe. Plus, these were freshly baked and maybe  a tiny bit better for that reason alone. No offence to Urth, though. Their cookie stayed good for at least 2 days (I didn't eat it all at once).  So here's how I made the cookies. This will give you 6 big ones. If you have a scale, it's best to weigh the dry ingredients. More notes at bottom.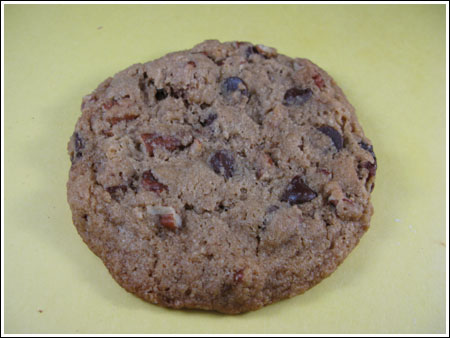 Giant Wheat Free Vegan Chocolate Chip Cookies
1 stick vegan butter/soy margarine (114 grams)* — room temp
1/2 very tightly packed cup light brown sugar (114 grams)
1 teaspoon vanilla
1/2 teaspoon baking soda
1/4 scant teaspoon Kosher salt
1 egg replacer**
1 cup barley flour (120 grams)
1/2 cup oat flour (40 grams)
1/2 cup toasted pecans, chopped (50 grams)
1/2 cup dark chocolate chips or 3-4 oz vegan chocolate, chopped ***
Preheat the oven to 325 degrees F. and line a large cookie sheet with parchment paper.
Beat the margarine/butter and sugar together until creamy. Beat in the vanilla, baking soda, and salt, making sure leavenings are evenly distributed. Beat in the egg replacer. When well mixed, stir in the barley flour, oat flour, toasted pecans and chocolate chips.
Shape the dough into 6 equal size balls (about 3 oz each if you have a scale), then put the balls onto the cookie sheet and pat gently to make 6 2 inch rounds – the cookies will spread as they bake.
Bake for a total of 18 minutes, stopping half way to turn pan. Let cool on cookie sheet for 5 minutes, then carefully lift from pan and set on cooling rack to cool completely.
Makes 6 big cookies
*Since I made these for myself and a person who is vegan, but okay with a little whey here and there, I used an "I Can't Believe it's Not Butter" stick. If I were baking for someone with serious dietary restrictions or allergies, I probably would have used Earth Balance Buttery Sticks (our store was out) or Shedd's Willow Run soybean margarine.
**Per the directions on the back of the Egg Replacer, I used 1 ½ teaspoons Egg Replacer mixed with 2 tablespoons warm water
***I used Guittard's new extra dark chocolate chips which seem to be vegan as I don't see any dairy on the label.