This recipe was given to me by Val who got it from her friend Sadie in Canada. Over the years we've made adjustments. For instance, Sadie's original recipe calls for lard, but since non-hydrogenated lard is hard to find, we've used shortening. The original recipe also called for "cake & pastry flour" but Val and I use cake flour. Val uses 2 to 2 ½ cups (usually 2 cups) cake and I use a mixture of cake and all-purpose. If you make these as directed and don't skip the shortening, you should get light, crispy cookies. Bake time is key. For crisp cookies, bake longer and for tender cookies with crisp edges, bake just until the cookies appear set. Also, I am sorry to say that the lard version was the best! If you can find some good lard, try it out in these cookies. I'm almost tempted to go render some bacon fat and see what happens.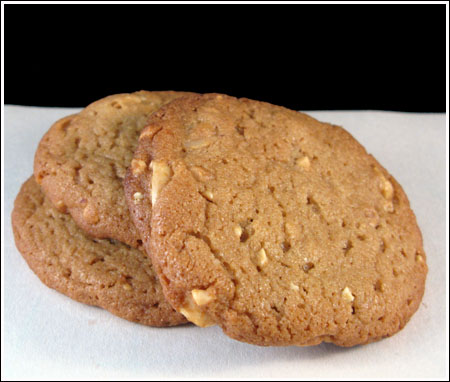 Sadie's Peanut Butter Cookies
These have a light and crispy texture thanks to the shortening. Butter won't give you the same results, unfortunately. For best results, use a mixture of shortening and butter.
Ingredients
4 oz (114 grams) unsalted butter
1/2 cup (100 grams) non-hydrogenated shortening or leaf lard (114 grams)
1 cup (280 grams) peanut butter
1 cup (200 grams) brown sugar
1 cup (190 grams) granulated sugar
2 large eggs
1 teaspoon (5 ml) vanilla extract
1 teaspoon (5 ml) baking soda
1/2 teaspoon (2 ml) salt
1 cup (114 grams) cake flour
1 cup (135 grams) all purpose flour
1/2 cup lightly salted peanuts, chopped – (big handful)
Instructions
Cream butter, shortening (or lard), peanut butter, and both sugars together in a mixing bowl. Add eggs and beat until combined. Beat in the vanilla, followed by the soda and salt – make sure there are no lumps of stray soda. Stir in the cake flour, then stir in the all purpose flour, followed by the chopped nuts.
Chill the dough for about an hour.
Preheat oven to 350 degrees F. Line a couple of cookie sheets with parchment if you want.
Shape dough into large balls (golf ball size) – a little smaller) and place cookie sheets. The cookies spread a bit, so leave room between the balls. Bake for 13 - 15 minutes or until lightly browned around the edges. The centers may seem a bit underdone at this point, but they will firm up. Let cookies cool on the pan 5 minutes before transferring to a wire rack to cool completely.
Notes
Source:
"First United Church, Waterloo, 1942"
Related posts: