If you haven't heard the news, Austin is hot. Luckily, a cold front's coming in to take us down to the high nineties. Phew.
We spent most of the weekend in air conditioned buildings, one of which was the new Coffee Bean & Tea Leaf on Lamar. I wish it was a little closer to my house, but hey – at least we have one in Austin. We kept stopping at them in L.A. and I like to think they followed me home. I wish Pinkberry did too, but oh well.
What's really special about the Austin Coffee Bean is that they've partnered up with Alexandra, whose cookie business is growing. She's still selling her amazing cookies on-line, but if you live in Austin you can stop by The Coffee Bean and Tea Leaf and buy them there.
Hmmm, what else happened this weekend? Not much. Fuzz tackled a few craft projects from Family Fun. One was a Fourth of July T-shirt project and another was a red, white and blue popsicle.  We got the idea from Farmily Fun but used a recipe from Jell-O because I think popsicles taste better with frozen gelatin than with punch.
Popsicles are a good lesson in delayed gratification. She started the project yesterday….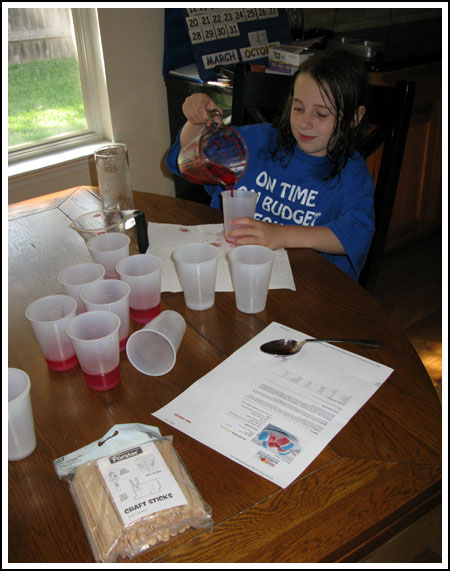 ….but had to wait until this morning to try one. Nothing balances out a complete breakfast quite like popsicles.