Therese sent this one over a couple of days ago after finding it in an ad for the upcoming Southern Living Christmas edition. The cookies are interesting, fun, and big and sturdy enough to be wrapped individually for gift giving.  And by the same token, I think they'd be perfect for bake sales. For the sake of convenience, I used brownie mix brownies, but you could just as easily use leftover brownies from another recipe.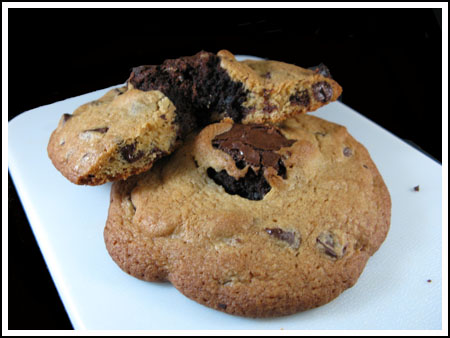 Chocolate Chip Brownie Pillows
1 (20-oz.) package double chocolate brownie mix
4 oz (1 stick) unsalted butter
1/2 cup shortening
1 1/2 cups firmly packed brown sugar
2 large eggs
1 egg yolk
1 Tablespoon vanilla extract
2 1/2 cups unbleached all-purpose flour (315 grams)
2 teaspoons baking powder
1/2 teaspoon baking soda
3/4 teaspoon salt
3 cups semisweet chocolate chips
Prepare and bake brownie mix according to package directions in an 8′ square pan. Cool completely, then cut brownies into about 3 dozen squares. You'll only be making 11 giant cookies so you don't have to cut all the brownies.
Beat butter and shortening at medium speed with an electric mixer until creamy. Add brown sugar, beating until smooth. Add eggs, egg yolk, and vanilla, beating until blended.
Combine flour and next 3 ingredients; gradually add to butter mixture, beating just until blended after each addition. Stir in chocolate morsels. Cover and chill dough 1 hour.
Preheat oven to 350 degrees F. For each cookie, scoop a level 1/2 cup dough onto parchment paper-lined baking sheets; place cookies 3 " apart. Using your fingers, make an indentation in mound of dough; place 1
brownie square in center. Press chocolate chip dough around brownie; reshaping dough to form a ball.
Repeat procedure until remaining dough and 10 brownie squares, placing no more than 6 cookies on a baking sheet. Chill for 15 minutes.
Bake at 350 for 18 to 20 minutes or until lightly browned and cookies
look set. Cool 2 minutes on baking sheets; remove to wire racks, and cool completely.
Yield: 11 jumbo cookies.
Related posts: