As promised, here are some Milk Bar Cookie Photos.
Here's the first of the Milk Bar Cookie Photos. And you should know that this cookie had a lot of butter!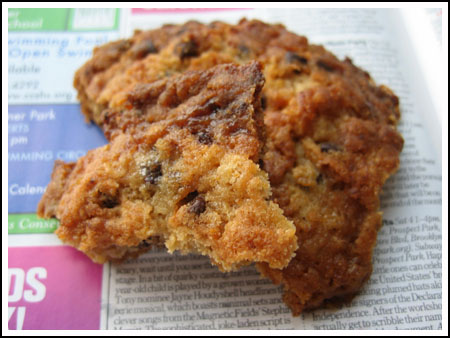 I carried it back to the hotel on the subway and grease seeped through the bag.   By the time we got to Canal street, I couldn't wait any longer and ripped open the bag. I tried the Cornflake Cookie first.  It tasted like browned butter and corn flakes.  The edges were a few degrees short of burnt which in this case, made the cookie better.  My big issue with this cookie and the others is I fear a homemade version in a non-commercial oven just won't be the same.
Still, that won't stop me from trying to clone the cookie which was my favorite -- the Compost.  Yes, it was a bit sweeter than the others but I did not find it overly so (like a few people have said) and it did have a lot of different things going flavor-wise.  I could see how someone would say the flavors were jumbled, but I think the almost whole pretzels and potato chips made the cookies special.  I didn't taste the coffee grounds, which are also (so I've heard) part of the cookie.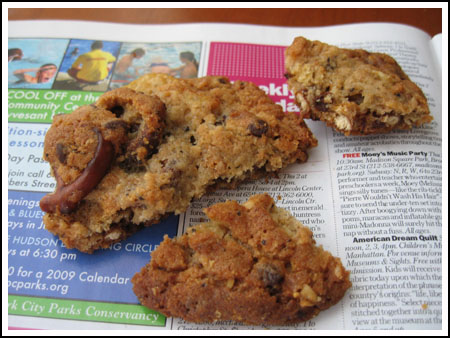 No complaints about the peanut butter cookie, either. It had enough peanut butter and would probably satisfy a craving, but the other flavors at Milk are so much more interesting this cookie was an afterthought. I don't even know why I bought it.  Oh, wait.  Because I love peanut butter.  Of the cookies, this would be the easiest to duplicate.