Today's Chips 'n' Nut Drops recipe is adapted from the KA Cookie Companion where the intro says you'll want to make an extra batch to have on hand or freeze "when guests pop in" or "your teenagers decide late at night that they have to have some cookies". I guess the point is it's a casual cookie.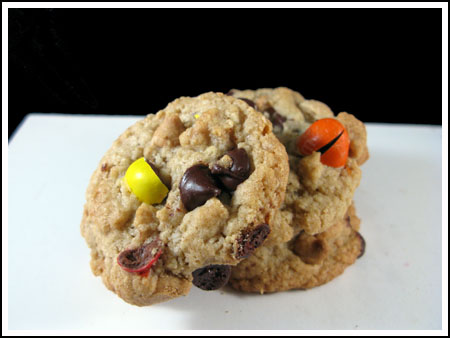 These were okay, but the dough was kind of dry. Still, the dough makes a good base for adding all sorts of add ins such as chocolate chips, candy and nuts. These are worth a try but only if you have lots of half bags of of chips to use up and if you like thick, not-too-buttery cookies. Also, it's possible I over-baked mine, so I'm curious to hear from anyone else who's made these or plans on doing so. I probably did something wrong, but it didn't stop me from eating the cookies anyway. I guess I'll freeze the rest in case unexpected teenagers pop in at night.
Chips 'n' Nut Drops
4 oz unsalted butter (1 stick)
1/2 cup (3.5 oz) granulated sugar
1/2 cup (4 oz) light brown sugar
1 large egg
1 teaspoon vanilla
1 1/4 cups roll oats, ground in the food processor after measuring
1 cup (4.2 oz) all purpose flour – fluff and measure with a very light hand if no scale
1/2 teaspoon baking powder
1/2 teaspoon baking soda
1/2 teaspoon salt (scant) – KA didn't use salt.
1/2 cup peanut butter chips
1/2 cup semi-sweet chocolate chips
1/3 cup white chips or 2 oz grated white chocolate (I Omitted, but probably should have used)
3/4 cups chopped walnuts ( used roasted peanuts & peanut M&Ms)
Preheat oven to 375 degrees F. Line a couple of baking sheets with parchment paper
Cream the butter and sugars in a large mixing bowl. Beat in the egg and vanilla.
Stir together the ground oats, flour, baking powder, soda and salt. Stir the oat mixture into the butter mixture until almost incorporated, then stir in the peanut butter chips, chocolate chips, white chips and nuts until batter is mixed.
Drop by rounded tablespoons onto parchment lined cookie sheets and bake for 8-10 minutes or until edges are set and just appear brown (recipe says bake 7 minutes, but mine still seemed doughy at that point).
Makes a little over 2 dozen