Today's recipe was inspired by a comment on the Easy and Good Oatmeal Raisin Cookies post. Alicia, who is allergic to wheat but can eat other grains, said she made the cookies with barley flour in place of all purpose and loved the results.
I tried Alicia's version this morning, minus the chocolate chips. They were good looking cookies, fairly crispy, but very sweet. I loved the texture, but the changing from a heavier flour (all purpose flour) to a lighter flour (barley) on a cup for cup (volume) basis and not taking into account weight, gave the cookies a higher proportion of sugar and in my opinion, it was just a tad too much. The alternative was to use ¼ cup of barley flour, in which case the dough would be too dry to hold together, or to reduce the sugar, which is what I did the second time around.
The cookies are still pretty sweet, but the nuts cut the sweetness a little and make them less so. You could probably get away with cutting the sugar down a bit more. If you try it, let me know. But sugar keeps things crisp and helps cookies spread, so keep that in mind. Or I will. I should test myself and stop asking you guys to do it. Lazy Cookie Madness.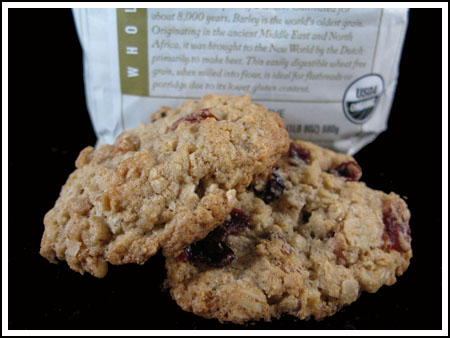 Oats and Barley Cookies
1 cup barley flour (100 grams)
1/2 teaspoon baking soda
1/2 teaspoon baking powder
1/4 teaspoon salt plus tiny pinch
1 teaspoon ground cinnamon
4 ounces unsalted butter — cut up, cool room temperature
1/4cup plus 2 tablespoons granulated sugar
1/4 cup plus 2 tablespoons brown sugar – packed
1 large egg
3/4 teaspoon vanilla
1 1/2 cups quick cooking oats (not instant)
3/4 cups raisins or dried cranberries
2/3 cup walnuts or pecans, toasted and chopped
Preheat oven to 350 degrees F. Have ready 2 ungreased or parchment lined cookie sheets.
Stir barley flour, baking soda, baking powder, salt and cinnamon together in a medium bowl; set aside.
Cream butter and both sugars in a mixing bowl using high speed of an electric mixer; add egg and vanilla and beat just until egg is mixed in. Add the flour mixture to the butter mixture and stir just until mixed. Stir in oats, raisins and pecans.
Using a tablespoon measure, scoop up dough and shape it into 1 ¼ inch balls; Arrange about 2 1/2 inches apart on baking sheets.
Bake 12-14 minutes, one sheet at a time, on center rack. Remove from oven; let cookies sit on baking sheet for 2-4 minutes. Carefully transfer to a rack to cool.
Makes about 28 cookies