Thanks to my repeated attempts at cloning the world famous compost cookie, this weekend has been one long stomachache. This is as close I got before realizing that a) mine will never be as good as Milk Bar's so why bother and b) it's not really a compost cookie if you're making all the components specificially for the cookie. But here's what I came up with. It's not the best cookie in the world, but it sort of reminded me of the one I had in NYC.
I need to start cloning Austin based cookies so I wouldn't have to rely on memories of something I tasted a week ago.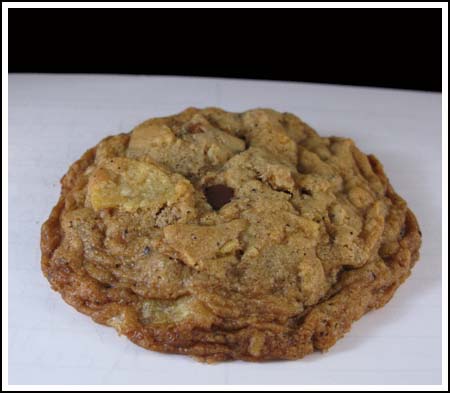 Not Compost Cookies
Pretzel Potato Chip Mixture:
1 1/2 cups mini pretzel knots
1 cup potato chips, thick ones
4 tablespoons unsalted butter
1/4 cup brown sugar
Dry Ingredients:
1 1/3 cups all purpose unbleached flour (180 grams)
1/2 teaspoon baking soda
1/4 teaspoon baking powder
Creamed Ingredients & Salt:
14 tablespoons unsalted butter (200 grams butter)
1/2 cup granulated sugar (96 grams sugar)
3/4 cups packed light brown sugar (160 grams light brown)
1/2 teaspoon salt
1 1/2 teaspoons vanilla extract
1 teaspoon used coffee grounds
1 large egg
Add Ins:
2/3 cup old fashioned oats (60 grams)
1 cup semisweet chocolate chips or chunks
1 cup pretzel potato chip mixture from above
Pretzel Mixture: Mix the prezels and potato chips together in a bowl. Melt butter in a small saucepan over medium heat. When butter is melted, stir in brown sugar. Bring mixture to a boil and boil for 1 minute, stirring once or twice. Pour over pretzel mixture and toss to coat. Spread flat on a parchment lined cookie sheet and and bake at 350 for 8 minutes. Let cool. When crisp, break it up a bit so that you have whole pretzels and chopped. Set aide.
Preheat oven to 375 degrees F. and line 2 cookie sheets with parchment paper.
Mix together the dry ingredients (flour, soda and baking powder); set aside.
With an electric mixer (stand mixer or hand held) beat the butter until creamy. Beat in both sugars, salt, vanilla and coffee grounds and beat for about 2 minutes. Add egg and beat until incorporated.
By hand or using lowest speed of mixer, add flour mixture and stir until almost incorporated. Add oats, chocolate chips and a cup (more if you like) of the pretzel mixture and stir until mixed and all flour has been absorbed.
Using about a quarter cup measure, shape dough into big balls – larger than a golf ball and much smaller than a tennis ball. Arrange 4 or 5 mounds of dough on cookie sheet and bake on center rack
Bake 8 minutes at 375 then without opening oven, reduce heat to 325 and bake for another 8-10 minutes or until edges are golden brown (they'll be kind of dark) and center appears set. Let cool on a wire rack. Repeat with remaining dough.
Makes about 10 large cookies.
Related posts: