Late last week Sue and I emailed back and forth about lemon meringue pie recipes — specifically, those from Cooks Illustrated. Sue found one that sounded okay, but too much like ones I'd already tried. Plus, it was missing tips and tricks that are signature CI, unlike this second one we found, which called for some fancy tricks and a lot of gear — 3 saucepans, a stand mixer, a candy thermometer, plus all the usual lemon meringue pie making paraphernalia. But it was the weekend and we were game.
Sue, whose most recent lemon meringue pie experience had been disastrous, followed CI's directions and ended up with an excellent pie. I made the recipe as directed and agreed. Of the three pies I've made in the past week, this one might be the best. But there were some issues.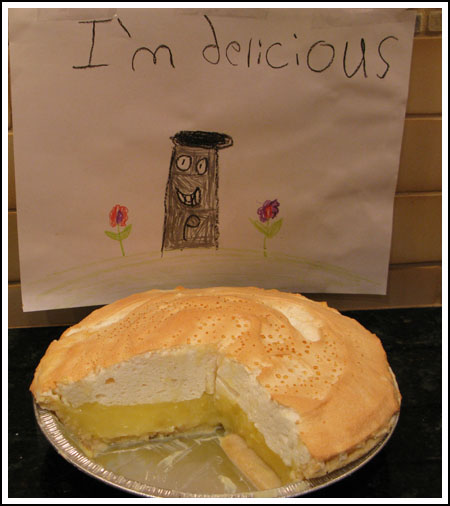 First, the filling. It was perfect. CI used less sugar, cold (not boiling) water, lots of lemon, and skipped the not-difficult-but-slightly-nerve wracking step of transferring sauce to eggs then pouring egg/sauce mixture back into saucepan to temper them. The filling was simple and the results couldn't have been better.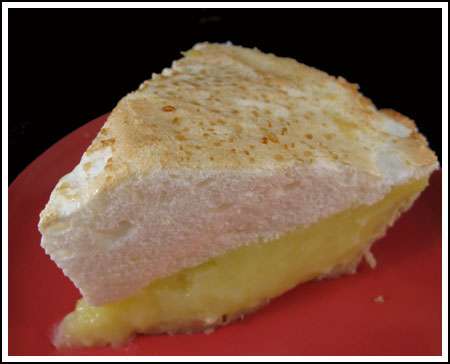 The meringue was a different story. To stabilize it, CI used a cornstarch water gel and a 238 degree syrup. The meringue was a hassle, but it would have been worth it had the meringue tasted great and not wept. Mine tasted as good but not better than usual meringue, but wept no less than an hour after being assembled.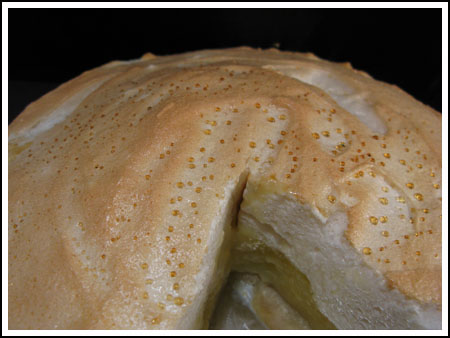 So much for weep-proof meringue. But I don't mind the beading so much, and wasn't terribly disappointed. In a way I was sort of glad the extra-step meringue didn't work out because it gave me an excuse to stick with the meringue I like best of 3 eggs, ¼ teaspoon cream of tartar, 6 tablespoons sugar and ¼ teaspoon of vanilla.
So lemon meringue number 4 will probably have a filling like CI's, a meringue like Betty Crocker's and if I decided to make it homemade, a crust recipe from Fine Cooking.
Now for the CI recipe. If you act fast you can grab it HERE from Google Books. Sue and I found it, but it might not be on-line for long.  To be safe, I recommend buying a copy of The Dessert Bible.  It's worth it!
UPDATE/NOTE: Just in case anyone is confused, this recipe is from the CI Dessert Bible. Someone commented to say it's not the same as the one on CI's recipe (Ultimate Lemon Meringue) and that is correct. It is not. This one is from The Dessert Bible which is what the link will take you to and what Sue and I used.