One nice thing about state fair competitions is that in most cases, it seems the focus is on execution rather than originality. For instance, if I controlled the state fair I'd surely have a Chocolate Chip Cookie category and everyone could enter their version. I might even have a "Thick Chocolate Chip Cookie" category and a "Thin Chocolate Chip Cookie" category. But I don't control the fair and I didn't make cookies today. Instead, I made this "Chocolate Syrup Swirl Cake" which won in the 2003 Abilene State Fair and Rodeo. It also happens to be from Hershey's.
But back to the execution issue, I made the cake this morning and had problems getting it out of the pan. Big problems that were probably due to the flour added cooking spray. Next time, I'll use shortening and flour. I also found the icing recipe I used too thick to drizzle, so I just slathered it on and called it a day, For the version below, I've typed up a better icing/glaze. You may recognize it from my the previous Bundt cake and it's a winner. I also typed the so-so version I used if you'd like to avoid the syrup and butter. It didn't flow well, but it still tasted good.
So my cake wouldn't win best of show prizes, but if I'd turned it from the pan and used a better glaze, it might have. Luckily, it had an intense buttery vanilla flavor and the chocolate swirl, which I worried would be too sweet, was actually just the right level of sweetness and very chocolaty. I added a half cup of chips to the chocolate swirl part, but think they might have contributed to the sticking. Then again, it might have just been the cooking spray.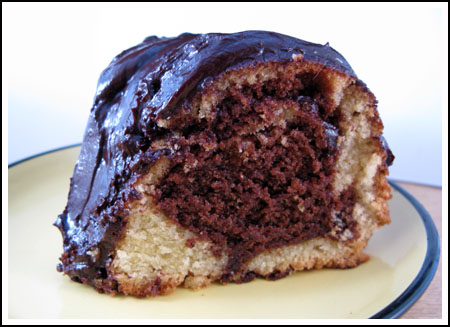 Chocolate Syrup Swirl Cake with Ganache Glaze
Cake:
2-3/4 cups all-purpose flour (360 grams)
1-1/4 teaspoons baking soda, DIVIDED USE
1/2 teaspoon salt
2 sticks (8 oz) unsalted butter, room temp (230 grams)
2 cups granulated sugar (380 grams)
2 teaspoons vanilla extract
3 large eggs
1 cup buttermilk (240 ml)
1 cup Hershey's Syrup (312 grams)
1/3 cup semi-sweet chocolate chips (optional)
Ganache Glaze:
3 oz bittersweet chocolate (84 grams)
1/3 cup heavy cream (85 grams)
1/2 tablespoon corn syrup or golden syrup (10 grams)
1/2 tablespoon unsalted butter (7 grams)
Preheat the oven to 350 degrees F. Grease and flour a 12-cup (10 inch) Bundt pan. I used flour added baking spray and the cake stuck, so make sure you grease it well. If you are using a black Bundt pan, use 325 degrees F.
Mix together the flour, only1 teaspoon of the baking soda, and the salt; set aside.
Beat butter, sugar and vanilla, using high speed of an electric mixer, until light and fluffy. Add eggs one at time, beating 30 seconds after each egg. Stir in flour mixture and milk, alternating between the two so that you add the flour in 3 parts. Don't overbeat the batter, but make sure it's thoroughly mixed.
Measure out 2 cups batter and put it in a medium bowl; stir in syrup and remaining 1/4 teaspoon baking soda and the chocolate chips (if using).
Pour vanilla batter into pan, then pour chocolate batter on top of it. The vanilla batter will bubble up over the chocolate to give you the swirl, so don't mix it.
Bake 60 to 70 minutes (I baked for 70) or until wooden pick inserted in center comes out clean. Cool l5 minutes; remove from pan to wire rack. Cool completely; glaze or frost as desired.
Chocolate Ganache Glaze:
In a small saucepan, bring the cream to a boil. In a heatproof bowl, combine the remaining 3 ounces of chopped chocolate with the corn syrup and butter. Pour the hot cream over the chocolate and let stand until melted, about 5 minutes. Whisk until smooth. Let the ganache glaze cool until thick but still pourable, about 5 minutes.
Pour the ganache over the cooled cake. Let the cake stand until the glaze is set, at least 30 minutes, before serving.
If you don't want to use the recipe above, you can follow the steps above but use ¼ cup cream, a little less than 2/3 cup chocolate chips and ¼ teaspoon of vanilla. I used this second recipe today and thought it was too thick, but it tasted good and was spreadable.