If you're curious about Stevia, the all natural herbal sweetener that's been around for years, there's now a convenient easy to find and easy to use granulated blend. It's called Sun Crystals, and teaspoon per teaspoon, it has about half the calories of regular granulated sugar.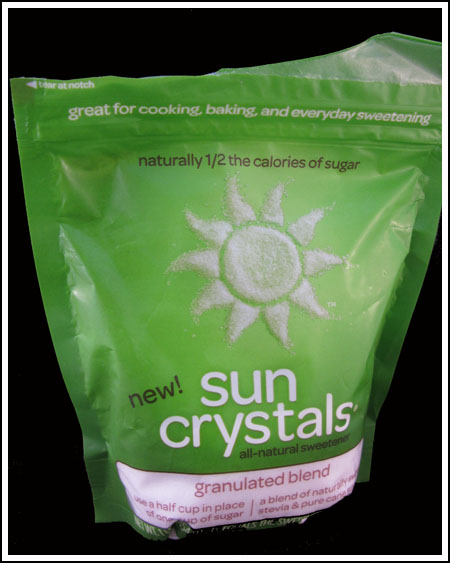 I saw Sun Crystals a few weeks ago in the sugar aisle and had been meaning to buy some. Luckily, their PR team beat me to it and sent me a free sample. I figured I'd break it in with the most obvious recipe possible – the one on the back of the bag for Oatmeal Raisin Cookies.
The recipe has a high proportion of butter, some cinnamon, a touch of molasses and the interesting addition of maple extract, so I figured it would be tasty even if there was some sort of Stevia aftertaste. And I was right on both counts. The cookies made with the Sun Crystals had a great, thick, moist texture, lots of flavor and yes – an aftertaste, but not really unpleasant. All in all, a small price to pay for a sweet cookie with half the sugar and no chemical sweeteners. I'm looking forward to trying it again in one of the recipes from Sun Crystals Recipe Page.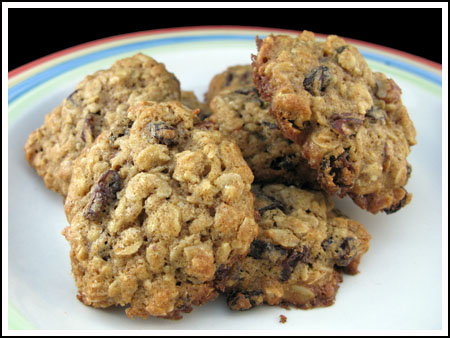 Sun Crystals Oatmeal Raisin Pecan Cookies
1 1/4 cups all-purpose flour
1/2 teaspoon baking soda
1/4 teaspoon salt
2 teaspoons ground cinnamon
8 oz (2 sticks) unsalted butter, softened
3/4 cup SUN CRYSTALS® All-Natural Granulated Blend
2 large eggs
2 teaspoons molasses
2 teaspoons maple extract (or try with vanilla)
2 1/2 cups old-fashioned oats, uncooked
1 cup raisins
½ cup toasted pecans, chopped
Preheat oven to 375 degrees F.
Stir together flour, baking soda, salt, and cinnamon. Set aside.
Cream butter and SUN CRYSTALS® Sweetener at medium speed with an electric mixer. Add eggs, molasses, and maple or vanilla extract. Mix until blended. Gradually add flour mixture, mixing on low speed until just combined.
Stir in oats and raisins.
Drop tablespoons of dough onto parchment-lined baking sheets. Flatten dough balls prior to baking.
Bake about 10 minutes or until lightly browned, rotating sheets half way through. Cool slightly on baking sheets. Remove to wire racks and cool completely.