'Tis the season for giveaways, and I have 3 copies of Camilla's Saulsbury's new book "Shortcut Cookies" to give to 3 of you. To win a copy of the book, just leave a comment with your favorite cooking or baking shortcut. I'll pick 3 at random and email the winners between now and October 19. So you have a week to enter.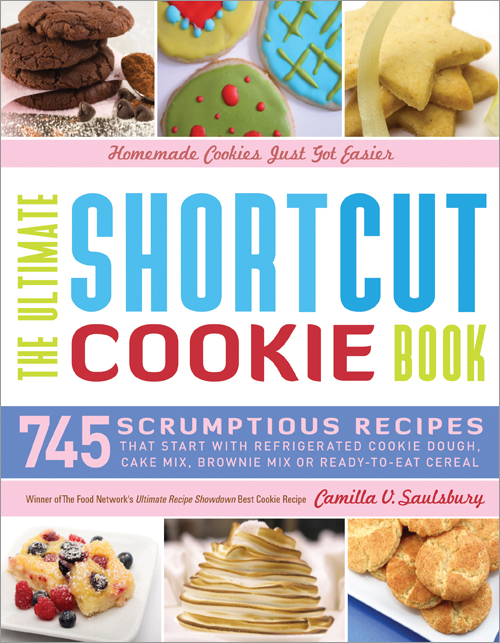 With over 745 recipes for cookies starting with packaged doughs, mixes, and cereals, Shortcut Cookies is one of Camilla's best books yet. And given her penchant for perfection, you can be sure anything Camilla's tested will be delicious enough for the school functions, bake sales and friends.
Some stand-outs from the book include an Italian Cheesecake Bar made with refrigerated sugar cookie dough, ricotta cheese, and traditional Italian flavorings of orange, golden raisin and hazelnuts; Lemon Curled Swirled Cheesecake Bars made with a packaged lemon cake mix base; Mango Cream Bars, with a crust of crushed gingersnaps and cream cheese & fresh lime topping and a recipe called "Dad's Double Peanut Butter Frosted Brownies" made up of a brown sugar doctored brownie mix and topped with Camilla's homemade peanut butter frosting. My favorite chapter is always "Brownies" and Camilla has a bunch including Turkish Coffee Brownies, Whiskey Brownies and Aztec brownies which I will review very soon.
And finally, leave it to Camilla to take things to yet another level. Over on her blog Shortcut Cookies, she's taking recipes from the book and making them with all-natural and gluten free mixes. And of course, she's there to answer questions as well.
Now it's time for you to win the book. As stated above, all you need to do is post your own cooking or baking related shortcut. I'll be picking winners randomly.