Our Disney World trip is coming to an end, but I'm heading home with lots of new baking inspiration. I found the elusive giant carrot cake cookie, several iced Mickey and candy corn shaped rice krispie treats and all kinds of outrageous cupcakes.  This is the Butterfinger Cupcake mentioned on AJ's Disney Food Blog .  We found it at a cafe in Disney Studios called "Starring Rolls".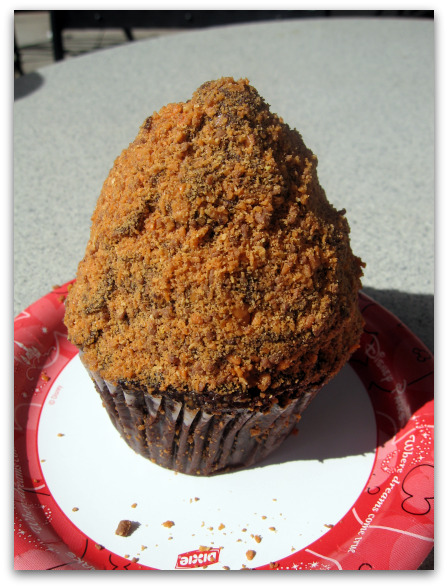 If you can't tell by the photo, this Butterfinger Cupcake is big.
The "stem" of the chocolate cupcake is about the size of a jumbo muffin, and it's a moist chocolate cake surrounding a big blob of soft fudge filling. The top of the cupcake is a tower of fluffy white icing (kind of like you'd get on a grocery store birthday cake) covered in a hard chocolate candy shell and sprinkled with Butterfinger crumbs. Hopefully the visual will help.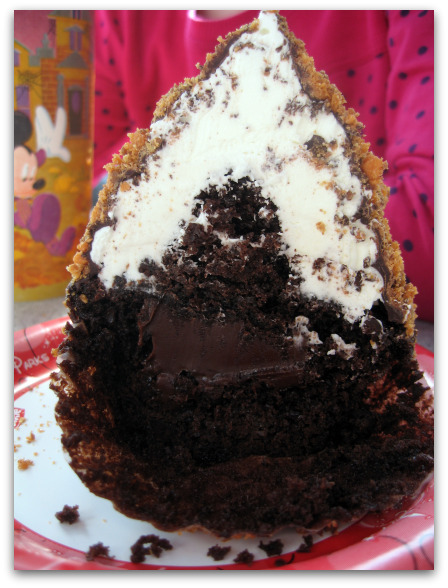 Since the cupcake was our morning coffee break treat, we split the whole thing between us and even then, couldn't finish it.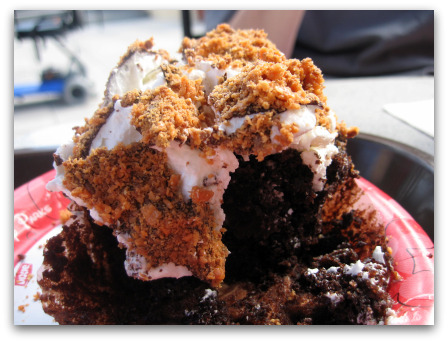 The other cupcake flavors were Marble Cake and White Chocolate. I can't wait to come back and try more flavors from Starring Rolls.
Update:  I don't have a recipe for the Butterfinger Cupcake, but if you want to make a cupcake with a high top, here's a recipe for High Top Sour Cream Cupcakes.