We're back from Disney World and quite rejuvenated.
Emotionally Disney is relaxing because the employees are paid to be very nice and you get to act like a kid all day; but physically, it's somewhat of a workout. You walk and walk, and with so much to see, you don't realize how far you've gone until your muscles ache. We always come home in better shape than when we left.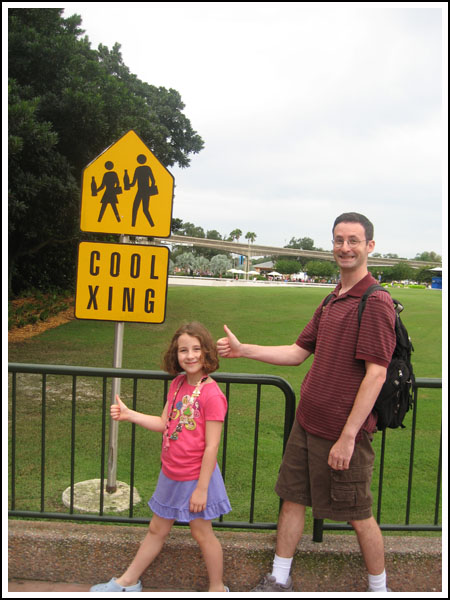 October is our favorite month to visit. Along with manageable crowd levels, there's Epcot's Food and Wine Fest, where you stroll around the World Showcase and purchase small portions of food from various countries. We didn't sample much this year because we'd made reservations at sit-down restaurants, but we did try some sushi in Japan. It was a pretty good 4:00 snack.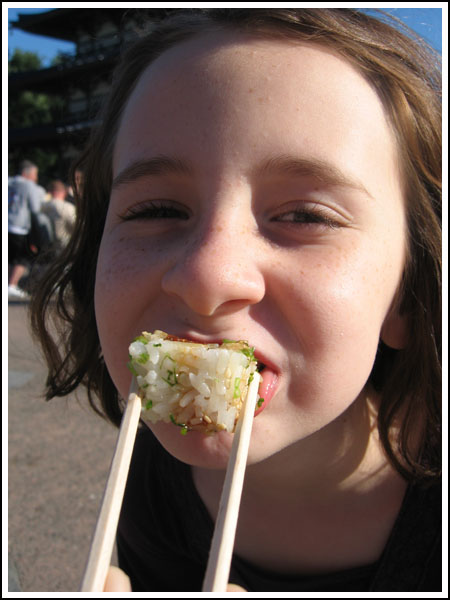 And of course there's the mask making, where kids walk through World Showcase building a mask and collecting charms from each country.  This is one of Fuzz's very favorite things about Epcot.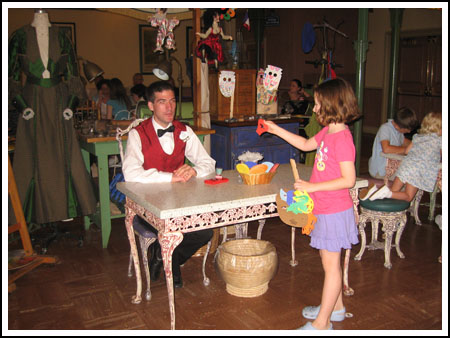 Tigger liked the mask as well.  We were really happy to get this photo. Most of the lines for character pictures were long, but we caught Tigger and Pooh in the London store right before dinner.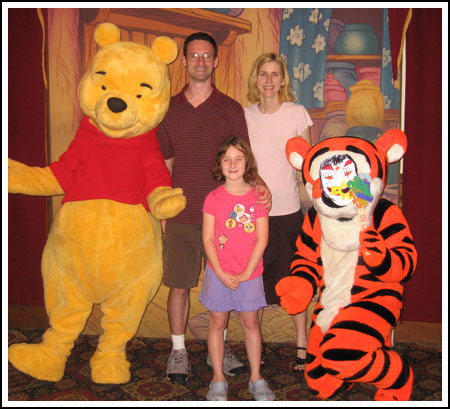 We also attended what is now my favorite Magic Kingdom event ever, the Not-So-Scary-Halloween Party. It starts at night, and only official ticket holders are allowed in. Scary music plays, fog is in the air, and there are trick-or-treat stations throughout the park where adults and children are given handfuls of candy. Best of all, lines are short. We could have ridden Thunder Mountain Railroad twice, but we didn't because I was having too much fun just walking around looking at stuff and getting candy. By the end of the night, we had about 6 pounds.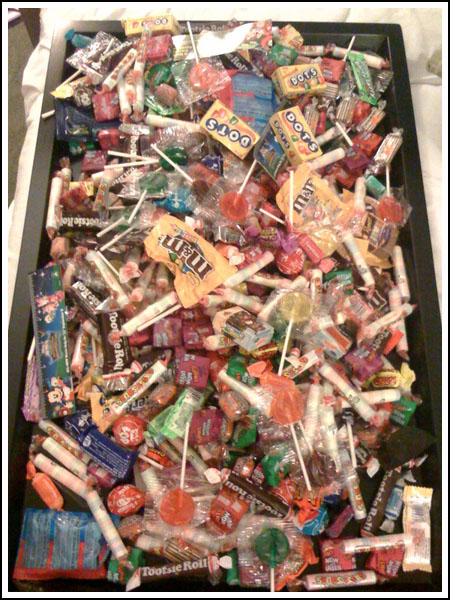 As usual, we spent half a day at Hollywood studios, where Fuzz rode Rockin' Roller Coaster for the very first time and where we discovered Starring Rolls Bakery. Hollywood Studios also has a new Toy Story ride, but that particular attraction had a line we couldn't deal with so we hunt out at the Honey I Shrunk the Kids play area instead.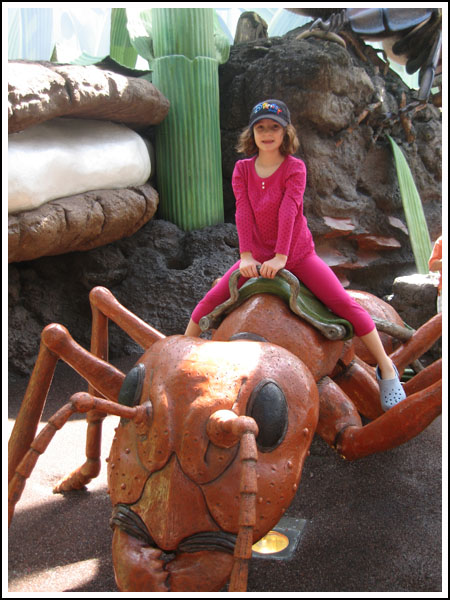 It had been a while since we'd visited Animal Kingdom and we'd forgotten how nice it was. Fuzz loved Expedition Everest, but that was one roller coaster I wouldn't ride again because the headrests weren't padded and my skull kept banging against it. I couldn't wait for it to be over, and I love roller coasters.  This one just wasn't for me. I'd say my favorite thing at Animal Kingdom was the safari ride.  The baby elephant was too cute.
The meals seemed better than ever this year.  We've never used the Disney Dining Plan, but all the restaurants kept asking if we were on it so I'm going to do some research — especially since I found out it includes wine.
For this trip, we dined at California Grill, The Wave in The Contemporary, Teppan Edo, Yachtsman Steakhouse and Citrico's in The Grand Floridian. All the meals were great, but my favorite was the chicken with pappardelle pasta at Citrico's. Sorry this photo is blurry, but I don't use flash at restaurants.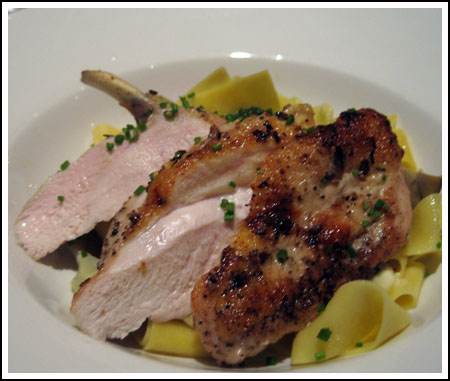 Todd had the short ribs.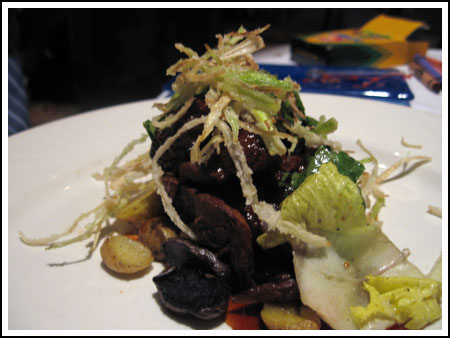 As for desserts, the white chocolate puzzle at Yachtsman is still Fuzz's favorite.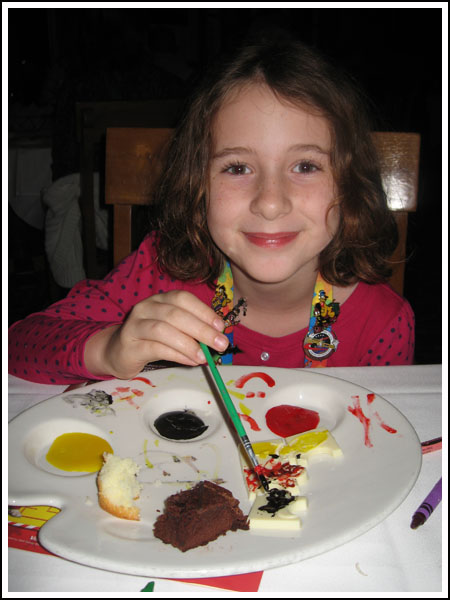 Another highlight of this trip was that it was our first stay at Bay Lake Tower. After mulling it over for a few years, we finally joined the Disney Vacation Club and it was kind of fun going to the park and feeling a tiny bit of ownership. And while Bay Lake Tower had a few kinks like bathroom doors that won't lock and food in the hallways (apparently, a lot of people order room service) the hotel was very clean. Since it's attached to The Contemporary, a place that looks and smells the same way it did twenty years ago, there was a sense of familiarity.  They should put the Contemporary hotel smell in a can and sell it so when you take a whiff, you're back at Disney World.
Bay Lake Tower is attached to The Contemporary by a little 5th floor walkway. It has it's own private lounge where DVC members can watch fireworks at night and it has a private pool. Our studio was the size of a hotel room and big enough for the 3 of us, but next time we're going to book a one bedroom which seemed quite large. I took some pictures of the model.
This is the outside of the building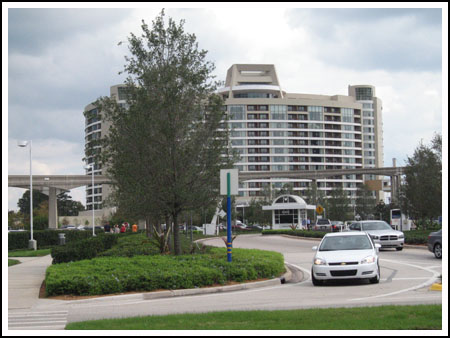 Living Room

Kitchen — much bigger and better equipped than the one in the studio!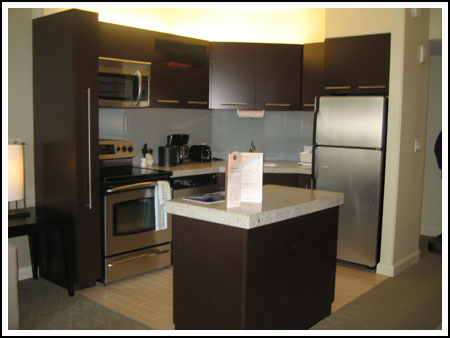 Bedroom — I love how the door of the bathtub opens to the bedroom. This is another feature we didn't have in the studio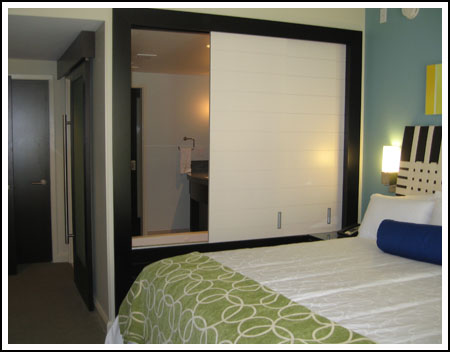 And this is the view from our 15th floor studio. We chose "Lake View" and got a view of the pool and Bay Lake.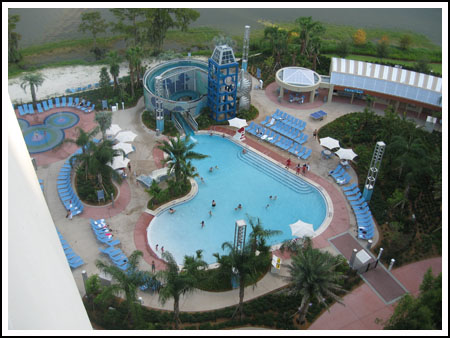 This photo was taken from the same balcony, but I pointed the camera up.