Here's another chance at a free book! Nicole from Baking Bites is giving away a copy of The Baking Bites cookbook.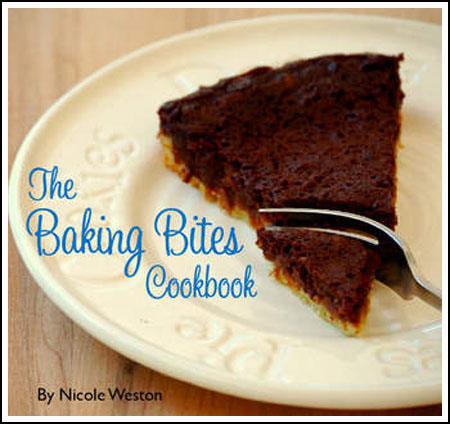 I got a sneak peak at The Baking Bites Cookbook last month. The recipes are scratch, the design is bright and cheery, and the directions are concise yet thorough enough for novice bakers to understand. And what I was really happy to hear was that all but 4 of the book's 51 recipes were completely new. Nicole, who manages to post almost every day, was able to set aside her favorite original ideas and save them for the book.
What's also admirable is that Nicole chose to see the project through from start to finish and published the book in a way that it is both beautiful and affordable. With a few mouse clicks, you can buy a copy for $16.95, and if you buy two copies, you save a few bucks. And trust me, it's pretty enough to give as a gift.
So buy a copy, and win a second for a gift. I'm giving one copy away this weekend. For a chance at a free book, leave a comment saying your favorite brand of chocolate. I'll pick a random winner at noon on Saturday, so make sure you get your comment in before then. Good luck! It's a great book and I'm very proud of Nicole.