We've been living in the same house for 10 years and it's on a very busy cut-through street. Someday we'll move, but we like our neighborhood and aren't in a hurry. But one drawback of living on a busy street, aside from the potential to be run-over when crossing it, is we don't get many trick-or-treaters. Last year was the worst. We bought bags and bags of good chocolate candy and didn't get one single child — not even a 19 year old hobo or the preschooler across the street. So this year for the first time ever, we turned off the porch light and both went trick-or treating with Fuzz.
It turns out all the fun is on the back streets, where people gathered in driveways with buckets of candy and portable TVs for watching the UT game. Trick-or-Treating was more fun than passing out candy, but this morning I'm still feeling a little guilty for leaving the light off. I could have at least put a bucket of candy out with a little sign saying "Take 2".
Here's a picture of the 6 pound 5 oz candy haul. Look at all the chocolate! Yet another reason I like our neighborhood. One house even gave out snow globes.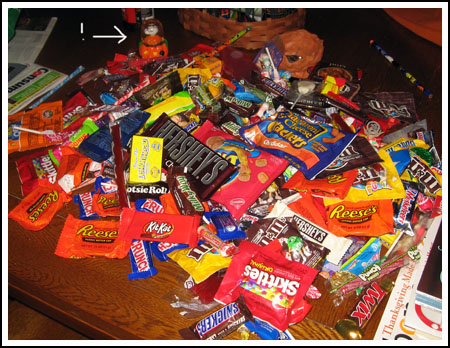 I hope you had a fun Halloween too. Only 364 days left until the next one!
(Since Louise requested it in the comment section, here's a picture of my little Halloween leopard girl 😉