Chile and Lime Corn Squares Mix is a "Mexican Chex Mix" which you can make with Corn Chex, Crispix or in this case, "Corn Squares" which is my grocery store's generic Corn Chex knock-off.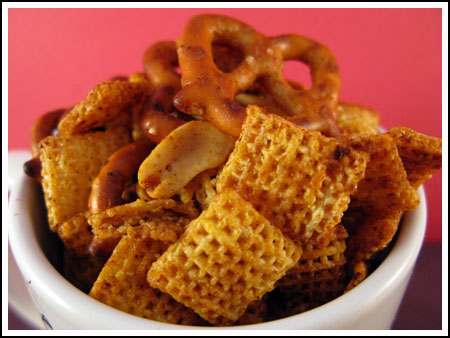 Luckily, I only made a half batch of this because it's addictive. It's got a lot of zest to it, but I still keep thinking I need to go back and double-triple-quadruple-check it to make sure the level of zingy-ness is right. I'd better go get some more right now, in fact.
I used Gebhardt non-spicy chili powder. If you like hot things, the spicy kind might be worth a try.
Mexican Chex Mix
5 cups "Corn Squares" cereal (or use Corn Chex)
1 cup lightly salted peanuts
3 cups mini pretzels
1/3 cup salted or unsalted butter
1 1/2 tablespoons chili powder (like Gebhardt — the kind you use in chili)
1/2 cup fresh lime juice
Preheat oven to 300 degrees F. Spray a large roasting pan with cooking spray.
Mix the cereal, peanuts and pretzels together in the pan.
Melt the butter and stir in the chili powder and lime. Pour over the cereal mixture and toss to coat.
Bake for 20 minutes, stirring every 5 minutes. Cool for 10 minutes.