Today's cake was a continuation of a quest I started back in 2008 – the search for the perfect German Chocolate Cake. My goal, the same as last year, was to make a cake that used the traditional German's brand chocolate and wasn't as cloyingly sweet as the original version published in a Dallas paper in the '50s.
I noticed in this month's Saveur, Nick Malgieri had the same idea and made a few adjustments to the original recipe. I decided to try his version, but made some adjustments of my own and broke the recipe into two parts since I find recipes written this way easier to follow.
The cake came together in minutes, but the filling was a different story. The original recipe didn't say to stir, but rather simmer for 12 minutes and strain. This seemed odd, because usually custard recipes say to stir constantly for a certain amount of time and straining is called for only if needed. Well, this custard certainly needed straining! I started wondering if there was a typo in the original recipe and that maybe they'd left out the words "stirring constantly"….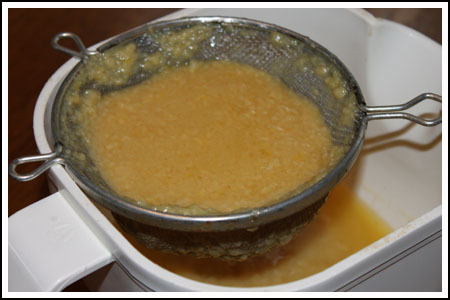 …but  luckily, once strained and chilled the goop did thicken and I trusted it enough to add the pecans and coconut.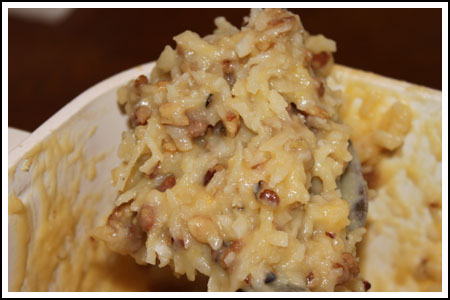 So it looks like we'll be having cake tonight. I've tasted it and it's very good, though I'm not ready to end the quest yet.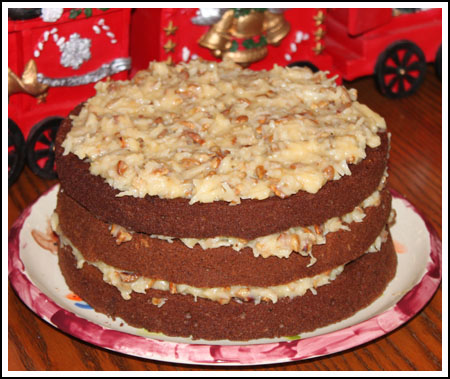 German Chocolate Cake
4 ounces "German" dark sweet baking chocolate, chopped
2 ounces unsweetened chocolate, chopped
1/2 cup boiling water
2 cups all-purpose flour (9 oz)
1 teaspoon baking soda
1/4 teaspoon salt
4 large eggs, separated
8 oz (2 sticks) unsalted butter, softened
1 1/2 cups granulated sugar (divided use)
1 teaspoon vanilla extract
1 cup buttermilk
Filling and Topping
6 oz unsalted butter (1 ½ sticks)
1 ½ cups sugar
4 large egg yolks
12 oz evaporated milk
1 ½ teaspoons vanilla
1-2 pinches of salt
1 ½ cups chopped toasted pecans
7 oz sweetened shredded coconut
Preheat oven to 350 degrees F. Grease and flour three 9-inch round cake pans. Line bottom of each pan with a 9 inch round of parchment paper.
Combine both chocolates in a bowl and pour in the hot water. Let stand for a few minutes. Stir until melted.
Thoroughly combine flour, baking soda and salt; set aside.
Beat the egg whites in bowl of a stand mixer until soft peaks form. Slowly beat in 1/4 cup of the granulated sugar and continue beating until stiff peaks begin to form. With a rubber scraper, scrape out the whipped egg whites and set them aside to free up the mixing bowl.
Add the butter to the stand mixing bowl and beat until creamy. Add remaining1 ¼ cups granulated sugar and beat for another 2 minutes, scraping sides of bowl, until creamy and light. Beat in the vanilla and egg yolks, one by one, scraping bowl often. Beat in the chocolate, then by hand or using lowest speed of mixer (I used a heavy duty scraper), stir in the flour mixture alternately with the buttermilk. When flour is incorporated, fold in the beaten egg whites.
Divide the batter evenly among 3 pans and bake on center and lower racks for 25-30 minutes. Remove from oven and cool on a rack for about 10 minutes before carefully removing from pans.
While cake bakes, begin making the filling. This will require a good deal of chilling, so don't plan on building the cake right away!
Melt the butter in a heavy 2 quart saucepan. Whisk in the sugar, beaten egg yolks and evaporated milk. Bring to a simmer and cook, stirring occasionally, for 12 minutes. At the end of 12 minutes, the filling should be slightly thicker, and also very lumpy and curdled (see photo). Strain into a bowl. Let cool slightly at room temperature, then transfer to refrigerator and chill for about 3 hours or until thickened. Stir in the vanilla, coconut and pecans.
Assemble cake by spreading filling across layers and stacking.