If there's a chocolate covered cherry lover in your life, here's a pie you should know about. It's like a chocolate covered cherry in pie form. 
I made this pie for New Year's Eve and had fun in the process. It was rich, but we liked it as did all the reviewers on My Recipes who gave it the highest marks. The original recipe calls for stemmed cherries and a dipping procedure. I couldn't find the stemmed cherries and skipped the dipping procedure, so my directions have been modified from the original 2005 Southern Living version. 
This is a convenience product pie, but if you are more ambitious and have some time, it might be fun to make all the elements from scratch.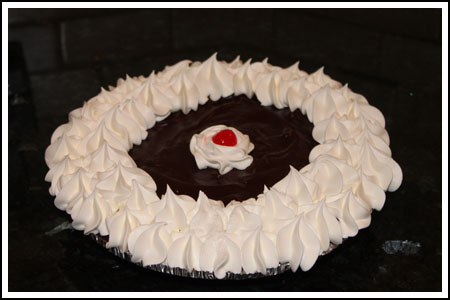 Here's what the pie looked like slice.
Chocolate Covered Cherry Pie
2 cups (12 oz) semi-sweet chocolate chips
1/2 cup whipping cream
4 tablespoons butter, cut into pieces and at room temperature or soft
1 6 oz chocolate pie crust
1 (21-ounce) can cherry pie filling – I use "Premium"
1 (8-ounce) package cream cheese, softened
1/3 cup powdered sugar
1 large egg
1/4 teaspoon almond extract
2 cups frozen whipped topping, thawed
1 maraschino cherry (or use SL's directions which call for 16 stemmed)
Microwave morsels and cream in a microwave-safe bowl using medium or medium low heat of a microwave for 1 to 2 minutes or until chocolate begins to melt. Whisk in butter until smooth. Let cool, whisking occasionally, 5 to 10 minutes or until mixture reaches spreading consistency.
Spoon half of chocolate mixture into piecrust. Cover and chill remaining chocolate mixture.
Spoon cherry pie filling into chocolate-lined pie crust and set on a cookie sheet.
Beat cream cheese and powdered sugar until smooth, then add the egg and almond extract and beat just until egg is mixed in. Pour cream cheese mixture evenly over cherry pie filling.
Bake at 350° for 30 minutes or until center is set. Remove from oven, and cool on a wire rack. Cover and chill 8 hours.
Microwave reserved chocolate mixture at MEDIUM (50% power) 1 minute. Stir and spread softened chocolate over set cream cheese mixture. Chill for about 15 mintues.
Pipe or dollop whipped cream around the edges and in center. Put the maraschino cherry in the center or decorate however you want.
Makes 6-8 servings
The pie slices better on Day 2