The chocolate muffin obsession continues, and after playing around with a few different versions, this one was today's favorite. What Fuzz and I liked about these were that the crowns were high and the insides were moist and neither too heavy nor too sweet. Not that making moist muffins is difficult, but sometimes muffin recipes with high crowns, particularly chocolate muffins, tend to be a little on the dry side. These aren't.
One trick we did with this batch was we started with a 500 degree oven to "lock in" the crown. After the muffins cooked for a little less than two minutes, we reduced the heat to 375 to cook the muffins without burning them. If you try them, let me know. At this point, I don't think I will ever find the perfect chocolate muffin. Much like chocolate chip cookie, it's a never-ending quest.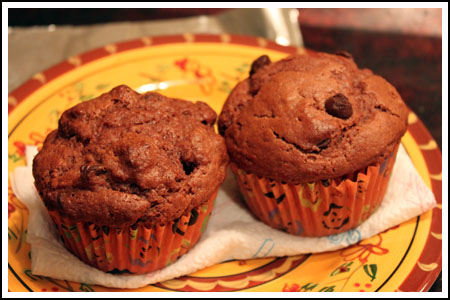 D
Double Chocolate Muffins (Again...Sheesh!)
Double chocolate muffins made with yogurt
Ingredients
7

tablespoons

unsalted salted butter

2

cups

minus 2 tablespoons all purpose flour

4

teaspoons

baking powder

1/2

teaspoon

Morton Kosher salt

omit if using salted butter**

1

cup

granulated sugar

1/3

cup

unsweetened natural cocoa powder

1/3

cup

milk

1

generous tablespoon honey

1

large egg

1

cup

plain yogurt

1 1/4

teaspoon

vanilla

2/3

cup

extra dark or semi-sweet chocolate chips
Instructions
Preheat oven to 500 degree F. Line 12 muffin cups with paper liners.

Melt the butter in a medium size microwave-safe bowl and set it aside to cool for a few minutes.

Sift the flour, baking powder, salt, sugar and cocoa powder into a large mixing bowl.

Whisk the milk, honey, egg, yogurt and vanilla into the bowl with the melted butter. Scrape the yogurt mixture into the flour mixture and stir with a wide spatula scraper until mixed – it should be lumpy. Stir in the chocolate chips. At this point, the batter should be thick enough to kind of pile into the muffin cups. It should not be soupy or runny at all.

Divide the muffins evenly among the muffin cups filling the muffin cups as high as you can. Put the muffin cups on the center rack, close the oven and bake at 500 for about 1 ½ minutes. Reduce heat to 375 degrees F. and cook for another 18-20 minutes at 375 degrees F until a toothpick inserted in center comes out clean. Let the muffins cool.