Trade Wind Pineapple Muffins is a recipe from Jean Sanderson's Million Dollar Cooking Contest Cookbook, copyright 1983. Todd picked it up for me at a tag sale, so of course I loved it! And I suppose household hint guru Mary Ellen Pinkham did too because she wrote a forward saying the recipes are ones you'll actually use. Given some of the titles, I had my doubts. Let's see. Do Curried Oriental Tidbits, Ham Cakes Mauna Loa and Chicken 'N Curry Blox sound appetizing to you?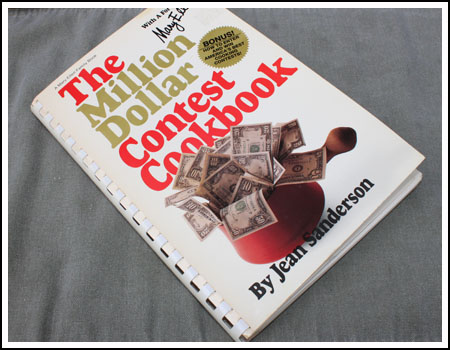 But as I kept moving through the book and looking past the goofy titles, I found quite a few promising recipes. In the first chapter, which covers The Hawaiian Pineapple Growers' National Pineapple Cooking Classic, there's a $25,000 Pineapple Baklava, a Hawaiian Wedding Cake made with "instantized" flour, Quiche Wiki-Wiki and Hawaii Five-O Torte.  And that's also the chapter where I found Trade Wind Pineapple Muffins.
$10,000 Pineapple Muffins!
Trade Wind Pineapple Muffins won $10,000 in the 1977 Pineapple Growers Competition, and I can see why.  They have a moist, light texture, rich pineapple-vanilla flavor and sort of remind me of a cross between pineapple cake and a dense Twinkie.   A unique feature is that the sides of the muffins are coated with sliced almonds which gives them an interesting look adds a little crunch. From a contesting point of view, I think it was the almonds that gave Roberta Badgley of Phoenix the edge.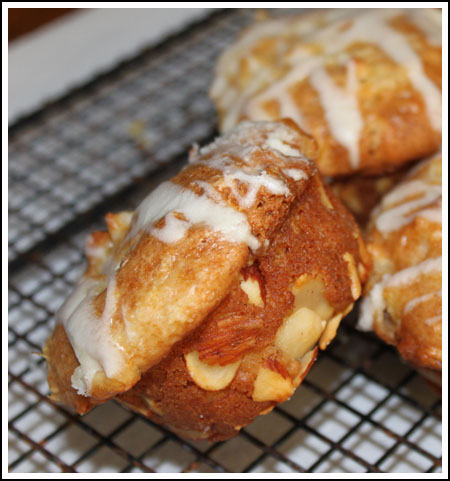 About those almonds, you can leave them off if you want.  But if you do, I highly recommend greasing the cups with butter over using cupcake cups or spray because the only fat in the batter comes from sour cream and cream cheese, so the big smear of butter on the side of the cups bakes in and adds butter flavor which is always so good with pineapple.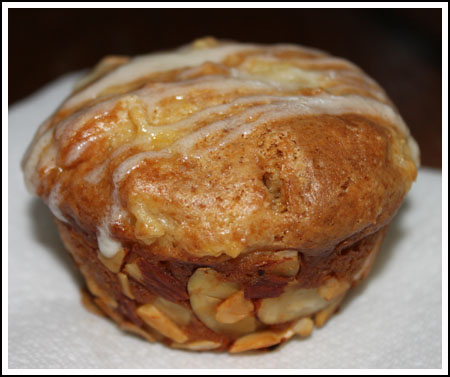 A Little Pineapple Extract?
I love the texture of the muffins and feel like the flavor is pretty good, but if you want more pineapple flavor try adding a little pineapple flavoring. It's not the easiest extract to find (unless you live in The Cayman Islands), but you can order it. Happy Home's flavorings are generally pretty good.
Trade Wind Pineapple Muffins
Softened unsalted butter for greasing cups
1/2 to 2/3 cup sliced almonds
1( 20 oz) can crushed pineapple
2 cups sifted all purpose flour
1 teaspoon soda
1 teaspoon kosher salt
3 oz cream cheese, softened
1 cup granulated sugar
2 teaspoons vanilla
1 large egg, beaten
1/2 cup sour cream
Glaze
1 tablespoon unsalted butter
1 cup sifted powdered sugar
1-2 tablespoons reserved pineapple juice
1/8 teaspoon vanilla
Instructions
Preheat oven to 450 degrees F (You will reduce it after you put the muffins in the oven).
Rub 12-16 muffin cups *generously* with the very soft butter. Sprinkle some of the almonds into each muffin cup and shake them around so they stick to the sides. Press almonds onto the sides as best you can and put in refrigerator for a few minutes. This helps seal the almonds in the butter.
Okay, onto the next step! Drain the pineapple and set it aside, reserving the juice.
Resift the flour with the soda and salt.
Beat the cream cheese, sugar, vanilla and egg together in a mixing bowl until light and fluffy. Add the flour mixture and sour cream to the batter alternately, stirring by hand until mixed. Fold in the drained pineapple.
Remove muffin cups from refrigerator and divide batter evenly between the cups.
Set on center oven rack, close door and reduce the heat to 350 degrees F.
Bake for 30 minutes at 350. Let cool, remove from cups, and drizzle with glaze.
To make glaze, mix the powdered sugar and butter together until you get a pasty mess. Stir in 1 tablespoon of the pineapple juice, then stir in more until you get a nice drizzling consistency. Stir in the vanilla.
Makes 12-16 muffins
Things I changed from the Original
— To get bigger crowns, I started with a 450 degree oven reduced the heat after I put the muffins in. I'm not sure if that really did anything, but the crowns were a  pretty decent size.   Original recipe says to bake at 350 F for 35 minutes.
— I made the muffins larger (original recipe makes 16-18) and added some vanilla to the glaze. Since it's a prize winner I didn't mess with it too much, but I'm glad I added the vanilla to the glaze because it rounded out the flavors.