It's a cold and windy day here in Austin, and after taking Lizzie for a long walk I was quite ready for a cup of coffee and one of these Promises cookies. They're so good! The recipe is a twist on a very old one from Southern Living. It's a peanut butter cookie stuffed with Dove Promises. You could stuff them with just about any kind of chocolate, but the Promises worked especially well. They have a bit of a soft texture and won't dry out after the cookies have cooled and set.
A couple of things I noticed along the way….
— Dough is much easier to work with on day 2
— Cinnamon added a lot of flavor, but you could leave it out and add vanilla
— Cookies spread *just* enough, which was good. I liked their overall shape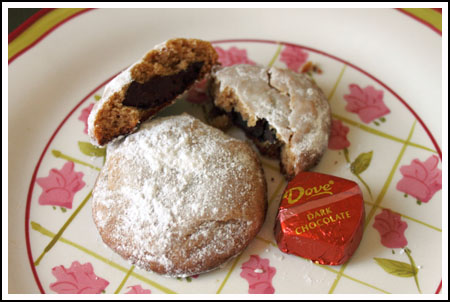 Secret Promises Cookies
1 cup all purpose unbleached flour
1 teaspoon baking powder
3/4 teaspoon cinnamon
1 stick (4 oz) salted butter or use 1 stick unsalted plus 3/8 tsp. salt
1 cup firmly packed brown sugar
1 cup smooth peanut butter
2 large eggs
24-30 Dove Promises
Powdered sugar for dusting
No need to preheat the oven because this dough requires chilling.
Combine flour, baking powder, and cinnamon; set aside.
Beat the butter and brown sugar with an electric mixer until fluffy. Beat in the peanut butter, then beat in the eggs. Scrape sides and continue beating until well mixed.
By hand, stir in the flour mixture. Chill dough for a couple of hours. The longer you chill it, the easier it is to work with.
Scoop us dough using a tablespoon measure and mold dough around each Promise – cover the chocolate as best you can.
Place dough balls a couple of inches apart on foil or parchment lined cookie sheets. Bake on center rack of oven at 350 F. for 12-14 minutes or until edges are lightly browned and cookies look done. Let cool slightly, then roll in powdered sugar.
You should get about 24-30 cookies, but I was experimenting with various sizes and don't know the exact yield.
I liked these better after they'd cooled and set, but if you like things gooey than serve them warm.
Note: If you'd like to make smaller cookies, you can make these with milk chocolate starts. Use a rounded teaspoon of dough per star and bake for 9-11 minutes.