So there was a reason for this morning's rehashing of favorite chocolate chip cookies. I wanted to lay my 5 current favorites on the table (so to speak) so I could compare them to a cookie I made this weekend – one I really liked and which is hovering around the Top 5. Or at least, for now. The recipe is called Felix K.'s Chocolate Chip Cookies aka Felix K.'s 'Don't even try to say these aren't the best you've ever eaten, because they are' Chocolate Chip Cookies.  Could you resist a title like that? I couldn't. Plus, the recipe has something like 260 reviews and lots of stars.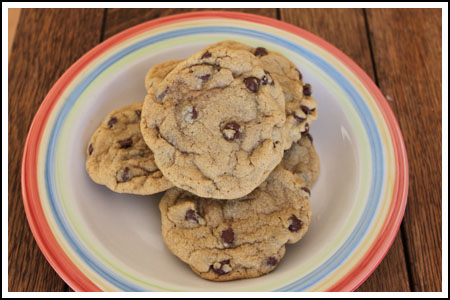 I made half a batch of Felix K's Chocolate Chip Cookies this weekend and thought the cookies were delicious. They were chewy, kind of soft but with some give to them, and they had a fairly strong brown sugar flavor. The dough was extra thick and sort of dry, which worried me a bit because I thought the cookies themselves might be dry. But I guess the moisture from all the brown sugar counteracted that because even with all the flour and the proportionately lower amount of fat, the cookies were still very moist and satisfying.
Another thing I discovered with Felix's cookie was that because the dough wasn't super buttery, it could hold onto richer, better quality chocolate. Have you ever tried to bake good quality high cocoa butter chocolate into cookies only to have them spread? I have, and it's annoying. This dough is dry enough so you can pack it with 58 or 72% chocolate and the cookies, well chilled, will spread in a normal fashion.
The ones in this picture were made with chocolate chips (obviously). Sorry, but I ate the one I packed with expensive chocolate. I'll have to make another.
I liked these and love the title, even though I feel it's backing me into a corner somehow….but not in a bad way.