I hope this is helpful to anyone planning a trip to Italy. This was our second time, so I'm starting to feel more experienced and confident about sharing information. Now if only I could speak the language. One question a few people have asked is if not knowing Italian is a problem. In my experience, it hasn't been. Many Italians take English in grade school, but not everyone speaks it. If you don't know Italian, you will be fine. If you know some, you'll make new friends.
Getting There
We flew direct from Chicago to Rome on Alitalia. The flight was a little over 9 hours. It left Chicago at 3:45 CST and arrived in Rome around 8:00 AM. After two in-flight meals and a few hours of sleep, we were quite awake upon arrival and didn't have any problems going on with the day. Since our strategy for arriving early in European time zones is to just stay awake until bed time, this was a good thing.
Day 1 – Arrival
After landing in Rome, we took a cab to the train station, Termini. The cab ride from the airport to Termini is about $40 euros and takes about 35 minutes. I'd arranged an 11:45 train trip to go from Rome to Florence, so we had some time to hang around at Termini station. Note: it's not the greatest place to hang around. If the weather is cold, the train station is too. You have to pay to use the public restrooms, and unless you're willing to pay extra for a table at one of the restaurants (in Italy, most coffee places charge a fee for sitting at a table), there aren't a lot of places to sit. We ended up buying table service at the Chef Express so we could sit, have coffee, and wait for the train which rolled in around noon.
We boarded the train and because we'd paid a little extra for first class (very affordable, relatively speaking), we were quite comfortable. I almost wished the ride between Rome and Florence was longer than 1 ½ hours.
Upon arrival in Florence, we caught another cab to our hotel which was in Centro Storico, the city center of Florence and where you find the major attractions such as the Duomo, Uffizi, Palazzo Vecchio and most major art museums. The last time we stayed just outside of the city center in the Oltrarno, so I was excited to be right in the middle of things
Our hotel was a family run pensione called Hotel Beniviene. It was clean, well located and very quiet. The location was perfect. It was a couple of blocks from the Duomo, next to two grocery stores, and across the street from an English paperbook exchange.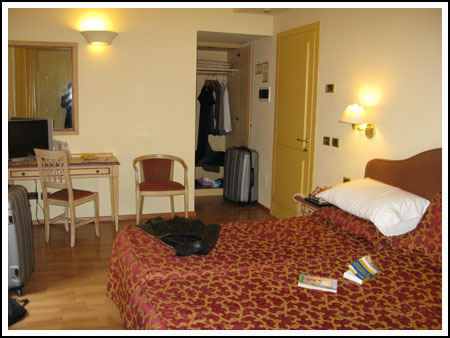 We had half a day to spend in Florence. We'd already climbed the Duomo, so this time we visited the Santa Reparata, which was the cathedral that existed prior to the building of Santa Maria del Fiore (aka Duomo) in the 1400s. They started excavating this very old cathedral in the sixties and think it dates back to the late 300s. Did I mention it was old? We looked at a lot of interesting artifacts and mosaics and stopped by to say hello to Brunelleschi in his tomb.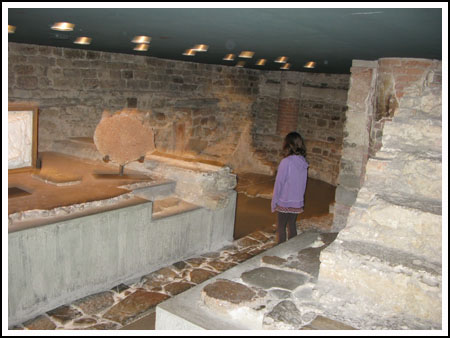 From Santa Reparata, we took a walk south, crossed the Ponte Vecchio Bridge, and took a stroll through the Palatina Art Gallery in the Pitti Palace. We like this particular gallery because it combines art with a tour of actual family rooms. What's really special is the art that's in the gallery is the art that the families who lived here loved – works by Carravagio, Rubens Raphael, Gentileschi. And we always like seeing the paintings of a lady named Vittoria Della Rovera because she looks like my sister-in-law.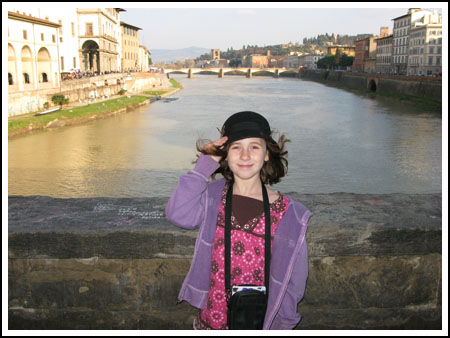 By 7:00, we were a little fatigued, but not too tired for dinner. I'd made a 7:30 reservation for Tratorria 4 Leoni which wasn't too far from the Pitti Palace. Trattoria 4 Leoni is wildly popular, but on a Sunday night at 7:30 we were the first ones there. I felt silly for making a reservation, but it turned out to be a good idea. By 8:00, it was almost full.
A bonus for us was that we are used to eating dinner around 7:00 or 7:30 which is very early for Italians. In the city, most Italians start eating at 8:00 or 9:00. So a pattern evolved where we would sit down in an empty restaurant and leave when it was full.
Trattoria 4 Leoni was very good. Our waiter was friendly and the crowd was a balanced mix of tourists and Italians. Pasta and steak were very good and for dessert, we were very impresssed with their rendition of an American style cheesecake. If it had ricotta, I wouldn't have known it.
After dinner, we went back to the hotel and went to bed.
Day 2
Day 2 got off to a good start. The pensione's breakfast room was having work done so they brought cappuccinos and croissants to our room. As much as I like having free breakfast available, I'd much rather eat in the room in my pajamas then get dressed and go downstairs. That being said, most pensiones seem to have a nice breakfast room with cereal, pastries, panini, boiled eggs and light fare.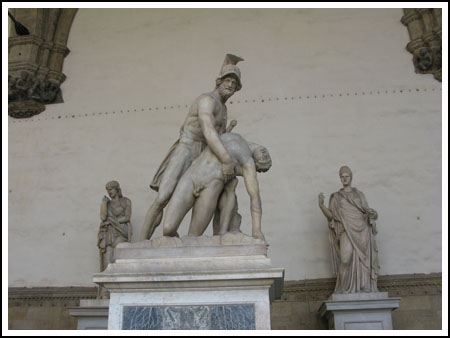 We started our day with a short walk over to Piazza della Signoria which is the location of the Palazzo Vecchio (another Medici palace) and site of the famous Bonfire of the Vanities. This piazza has a lot of life to it and given the sculptures that are there, it's a must-visit if you like art. If you're in the mood for a cappuccino, not far from the piazza is a great little coffee bar called Perseus. Todd, especially, liked this place. It's also home to the elusive White Chocolate Twix bar.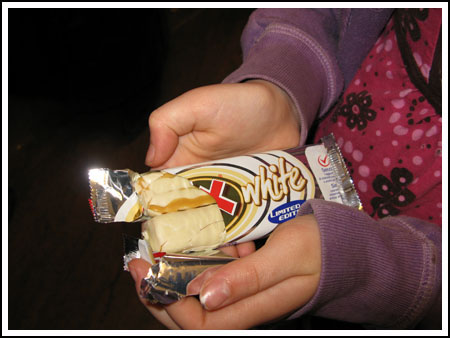 That morning, we'd wanted to take a tour of the Palazzo Vecchio because we'd heard they were guided by young actors who spoke English and were good with children. After visiting with the people in the ticket office, they were sorry to inform us that there weren't any English tours available that day, but perhaps we'd like to come back later in the afternoon and paint frescos in their art room. We signed up, then went to lunch until it was time for our class.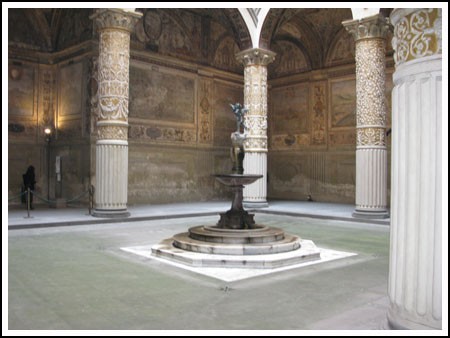 After a quick lunch at a restaurant where you pick your meal and the man behind the counter heats it up, we headed back to Palazzo Vecchio at 2:30 and had a personal fresco painting class with a lovely young Florentine who taught us how plaster was made, where paint came from, and were we'd find the most famous frescos. It was a one-of-a-kind experience and a bargain at that! We had a full hour of personal attention and got to take home our art. I believe you can buy tickets here.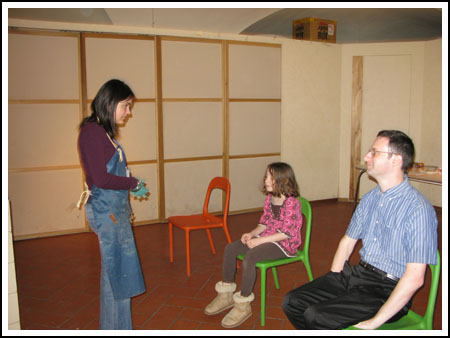 We left our frescos to dry…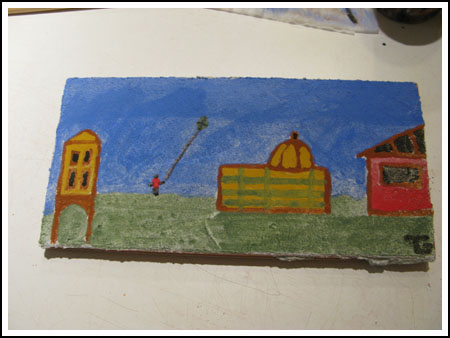 …then parted ways. Todd and Emma headed over to the Davinci Museum, which they both seem to like. I was in the mood to window shop.
Dinner that night was at Golden View Open Bar, which unlike a lot of restaurants is open on Monday nights. The Golden View Open Bar is just south of the Ponte Vecchio and has a great view of the Arno, a cheerfully elegant dining room, and very good pizza and wine. We had pizza, Vino Nobile and a Barollo. A few days later we got scolded for having Barollo with pizza, but that's another story.
Day 3
Because we'd scheduled a Tuscany tour for the Day 4, this was our last full day to explore Florence. We spent the first morning wandering around Santa Croce and exploring the church where Galileo, Michelangelo, Machiavelli and many more are buried.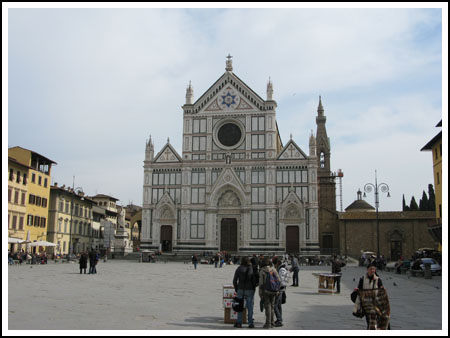 We ate lunch at a place called Oibo which is a stylish restaurant with a more casual lunch service. Because we were early (as usual) we got great seats along the window where we could watch people pass by in the Santa Croce piazza.
Dinner that night – La Giostra!
 This was our second time at La Giostra. The food was as good as ever and our servers were excellent. Todd had steak Florentine, I had a chicken dish which was about 3 times more than I could eat, and Fuzz had a little of our food plus loads of La Giostra's antipasta. She's expecially fond of the rabbit bruschetta even though this year she knows what it is. The tiramisu was very good too – probably the lightest and fluffiest I've ever had.
Day 4
This was the most spectacular day, for we'd scheduled a tour of Tuscany with a driver/sommelier named Guido Bandinelli. I chose Guido from recommendations on other sites. Plus, he speaks English very well and knows more than I'll ever know about Chianti. Guido drove us through the hills from winery to winery and talked to us about the countryside, history of the vineyards, and his family. He even empathized with us when Fuzz felt car sick and let us stop to buy some Dramamine for bambinos.
Poor Fuzz.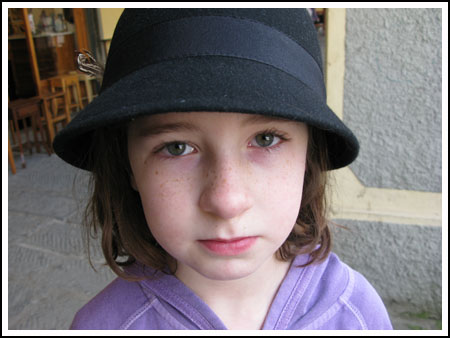 Luckily, this helped.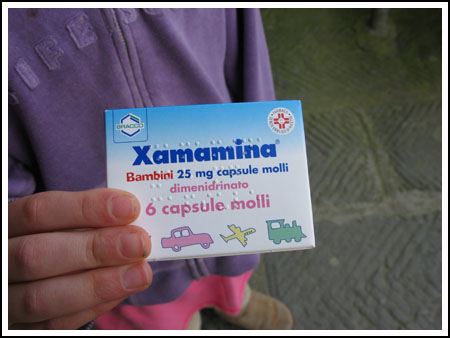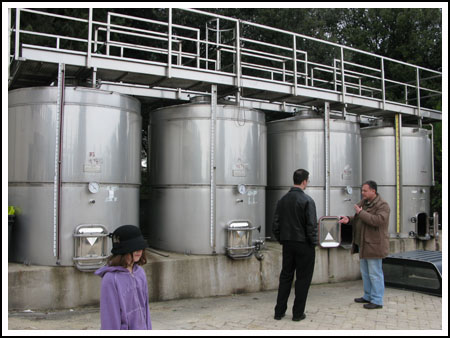 By the end of our day with Guido, we felt like we'd made a new friend. Also, Fuzz deserves a trip to Sea World.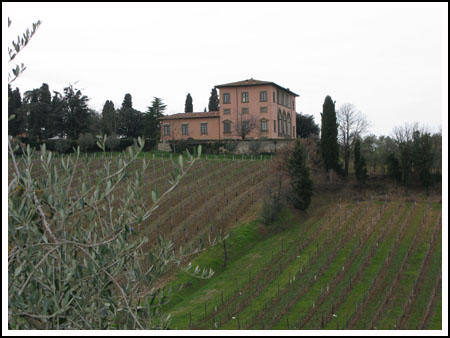 Day 5
Goodbye Florence. We were sad to go, but excited to visit Rome. Plus, I was looking forward to staying at Albergo de Senato which is right next to the Pantheon. After another pleasant train ride and a quick cab ride from Termini to the pantheon, we checked into the hotel and were delighted to meet the staff who were genuinely kind and helpful.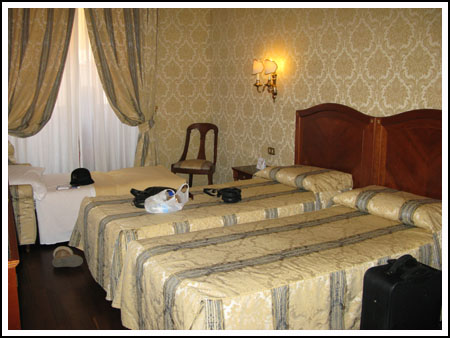 Alessandra at the front desk was particularly attentive to Fuzz and loaned her a Rome for Kids book to use during her stay. She gave us info about the hotel and some restaurant recommendations. She seemed to respect that we were into food and gave us a restaurant recommendation that was slightly off the beaten path – La Fraschetta, in Trastevere.  Someone on trip advisor described it as Good and Cheap, which is just what we were in the mood for. It was also very cozy and warm.
As for what we did with our half day, well I think I've talked about it enough but we spent some time at the Torre Argentina Cat Sanctuary…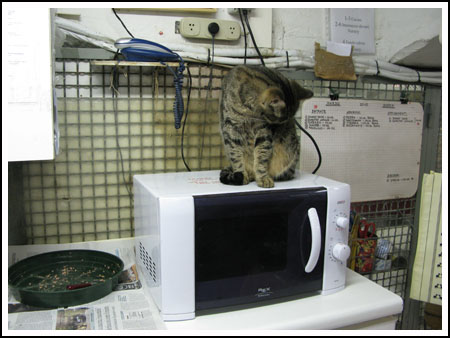 …and ate gelato. Fuzz's favorite is a combo of licorice and grapefruit gelato from Crispini. I think she picks those flavors so I won't mooch.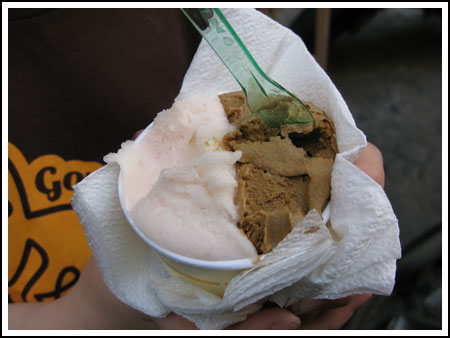 Day 6
The next day was our last full in Italy. We started it off by sleeping late and missed breakfast in the hotel dining room. They brought us free room service anyway, and by 10:00 we were out the door and on our way to the Spanish Steps and Borghese Gardens.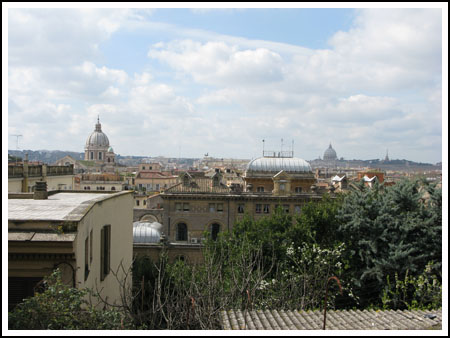 The Spanish Steps area is about a 25 minute walk from The Pantheon and after taking photos, we spent the morning walking around Borghese park. We peeked into another Medici Palace, stopped to watch the taping of an Italian puppet show, pet a little dog…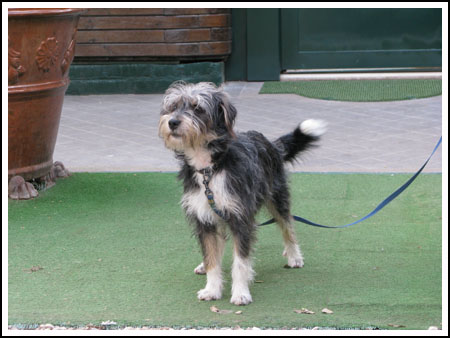 …played on the playground, and walked by a couple of art museums. As much as I wanted to see some of the paintings in the Borghese gallery, we'd had our fill of museums and decided to just enjoy the sunny, 70ish weather and greenery.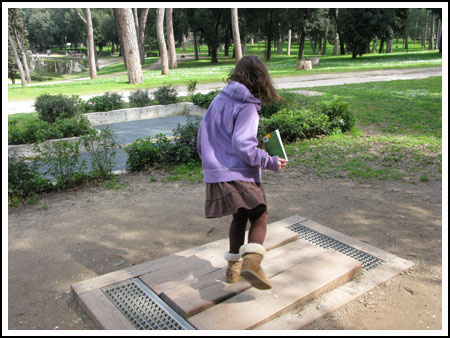 For lunch we went to Caffe Cinema which is a little outdoor restaurant and good place for a very light lunch. Todd likes the pizza Roma and Fuzz and I ordered Tremezzino, which are little sandwiches.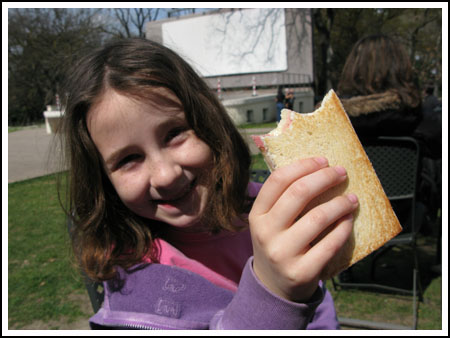 We walked around a bit more than caught a cab back to our hotel.
After a quick rest and some business on the Internet, we headed out once again to find burnt biscotti in the Jewish Ghetto area. I was looking forward to seeing that area for a few reasons. One of which was that it's the home of Portico di Ottavia, the remains of a structure Octavius dedicated to his sister. A walk through the Ghetto (where I found a kitchen store and bought my ring pan for about 3 euros) was enjoyable as well — especially because it wasn't crowded. I wish we'd allotted more time for that part of town and had made reservations to see the Jewish Museum, but we hadn't and it was time to go back to the hotel and get ready for dinner.
Our last meal of the trip was in the Campo di Fiori which is near the Jewish Ghetto and one of the busiest squares in town. In the morning, it's a food market and in the evening it transitions into a see and be scene type of place to have drinks, dinner and wind down the day. Our restaurant, Brasia, was off on a little side street. We arrived at 7:30 and were the first there. The server, who also seemed to be the host and "guy in charge" spoke some English and gave us a great table. The menu had a few pastas, some pizzas and a nice selection of grilled dishes, but we were all in a pizza mood (seeing a brick oven always puts us in a pizza mood) and ordered that.
I can tell you that by 8:15 the restaurant was buzzing and when we left around 9:00, it was full.
Day 7
I don't have much to say about this day, other than the phone rang, we ran down and had coffee, said goodbye to the staff and had a car take us back to the airport. Leaving Rome is always a sad.
The flight back was pretty easy. Rather than hang out in the Chicago airport for 4 hours waiting for our connection to Austin, we stayed at the Hilton Airport hotel in Chicago. Since it was snowing, we were happy we'd planned on staying over. We went swimming, worked out in the gym, had dinner at a steakhouse and went to bed. If you have time to break a flight up like that, I highly recommend it.
So that's about it. We're home now and things are back to normal. I'd be lying if I told you I wasn't already planning the next trip!  I'm thinking either London or Amsterdam, Switzerland and Venice 2011!