After making a batch of Martha Stewart's red velvet cupcakes, I considered doing a red velvet cupcake comparison test, but came to my senses. First, I like eating cupcakes more than making them. Second, many red velvet comparisons have been done and far better than I have the time or resources to devote to one. Here are two good comparisions.
My favorite red velvet comparison is from the Bake More blog where she even made a spreadsheet.
 And from someone who bakes so many cupcakes she doesn't need a spreadsheet, there was this red velvet cupcake analysis which included some myth busting regarding the chemical reaction that's supposed to make chocolate cakes turn red. Awesome.
There were others – all fun reading, but I had to stop because I wanted to avoid obsessing over a baked good I didn't care much for in the first place.   Case in point, the time I baked and tested  Shoe Fly Shoofly Pies.  What a colossal waste of time that was.
But I do like red velvet cupcakes and plan to bake more in the in the coming months.   To get started, here's a list of recipes I found appealing.
Martha Stewart's Cupcakes – Tried. Very good! Lots of oil, but the red color doesn't pop. I like my red velvet fairly garish.
 Cake Man Raven's Red Velvet Cupcakes – Pretty much the same recipe as Martha's but without the dark cocoa and less of it. Fairly certain I'll like the shade of red when I eventually make these. This recipe has to be the moistest one out there with the cake flour and the 1 ½ cups vegetable oil.
 Red Velvet from Baked – Will make as cupcakes. Confident I'll lake the cake, but worried it will be too much like chocolate and neither red nor sour enough.
 Cupcake Blog Red Velvet Cupcake Recipe (as mentioned above).  High hopes for this one.
 Paula Deen's Red Velvet Cupcake — If anyone knows red velvet it would be P. Deen.
 Simply Recipes Red Velvet Cupcakes – Basic can be good if made properly.   The original Waldorf Astoria recipe was fairly simple as well. 
Magnolia Bakery Cupcakes — Love the cookbook and the cupcake recipe has unique ratios. Going to have to buy self-rising flour, though.
 Joy the Baker's Red Velvet Cupcakes – Not sure I'll try the cupcakes, but the post was darling.
McCormick's Red Velvet Cupcakes – From the company that makes red food coloring. Their recipe had better be good!  Calls for sour cream and butter.
Bobby Flay Throwdown Red Velvet Cupcakes – Terri Wahl's Recipe from Aunti Em's. As usual I missed the Throwdown show, but Throwdown recipes are always good.
Doctored Cake Mix Red Velvet Cake — (Make as Cupcakes) This is Todd's favorite red velvet cake and from what I remember about the recipe is that it has the appropriate twang of signature red velvet cake. Less chocolate, more sour, more red = good.  This one starts with a mix so it's super easy.
Also, for research purposes I will be frequenting more cupcake establishments such as the "Hey Cupcake" trailer on South Congress where I purchased a trailer-made red velvet cupcake Saturday night. I was happy to discover they had takeaway boxes. In my mind there was this requirement that you had to eat the cupcake on a bench next to the street. Not sure why I was so surprised about the boxes.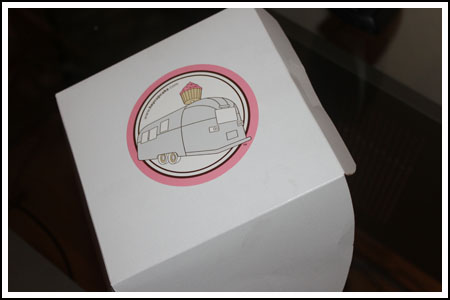 Red sprinkles on red velvet was a nice touch.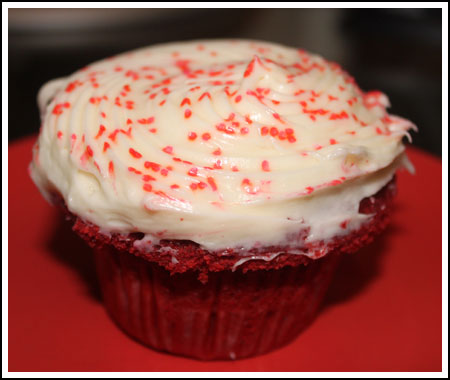 Texture shot! Nice in-between level of moistness and interesting flavor. Just the right shade of red.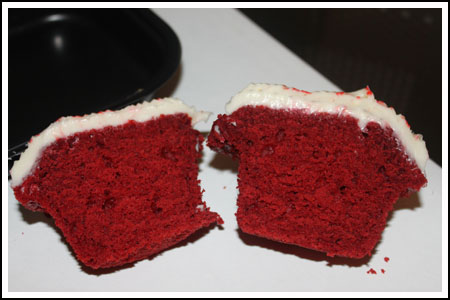 Everyone has their own opinion on how a cupcake should be, but I rather liked Hey Cupcake's red velvet because it was firm, heavy, moist, but not overly so. I like cupcakes with a little give to them, which is why I usually end up making muffins.
Related posts: