After taking Fuzz to the dentist this morning, I came home and realized there were no cookies in the house. Uh oh. I had to act fast and turned to Dawn at Vanilla Kitchen. She's been obsessed with giant cookies lately, and came up with a good one.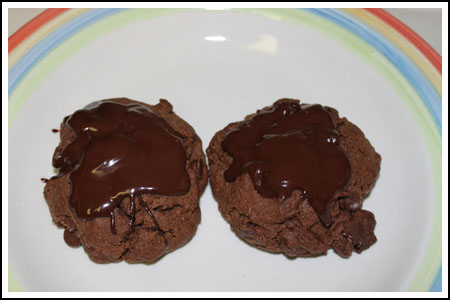 At first I thought Dawn's cookie might be similar to the Chocolate Peanut Butter Chip Levain Clone adapted from Jessica at Su Good Sweets who along with Lisa (and Bobby Flay), started the Levain cloning madness a few years back.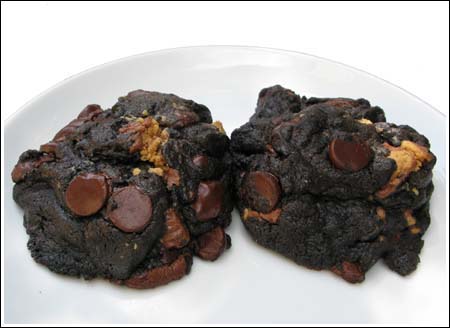 But in looking at Dawn's ratios, I saw hers were quite different and not just because of the cocoa powder (the Levain clone uses Dutch).
— As Dawn said, the dough was pretty thick. She suggested chilling it for 3 hours, but I obviously didn't have time to do that and chilled it for 10 minutes at most.
— Because I wanted the cookies to be very puffy, I used bleached flour rather than unbleached. I'm positive Dawn used unbleached, so I figured it would be fun to see the difference in height and texture when made with bleached. Besides, I feel a little deficient in bleach today.
Dawn's cookies were excellent. They were crumblier than the Levain clones, yet still moist and with a perfect level of sweetness. The slightly drier (but not dry in a bad way, just "short") texture of the cookie was a good contrast to the melted chocolate topping, which in this case was some leftover Intense Chocolate Lindt which I melted in the microwave on the defrost cycle – a good way to melt chocolate without having it seize, btw.
The only problem with this cookie is that it's tempting to eat a whole one. Each cookie is the equivalent to about 4 normal size cookies, so be careful. Or not. I won't judge.