Last year a Washington newspaper posted an article about an Alaska Airlines pilot who baked oatmeal cookies for his crew. Now every time I see Alaska Airlines (which is often because they have a route from here to San Jose called The Nerd Bird) I think of Airline Pilot Oatmeal Cookies.
Yesterday I was thinking about Hawaii, saw there was a route to Maui on Alaska Airlines, then got distracted by thoughts of oatmeal cookies.  This was a signal that I should really get in the kitchen and try them.  The newspaper article has been archived, but Katrina posted the recipe shortly after it came out, and I pulled it from her. She'd made modifications, so I un-modified her modifications and I think the recipe is closer to what it was in the article.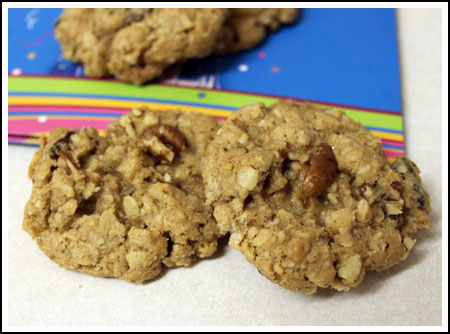 They're pretty good. The recipe has a high ratio of sugar to butter and flour, but the extra nuts and oats buffer it so the cookies aren't cloying. They are sweet, though.  And chewy. If you like chewy cookies with lots of spice, this recipe is a good bet. Just don't leave out the nuts.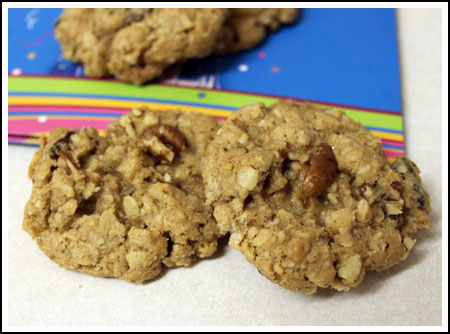 Airline Pilot Oatmeal Cookies
Alaska Airlines Pilot Oatmeal Cookies are based on a recipe by a pilot for Alaska Airlines.
Ingredients 
4

oz

unsalted butter

3/4

cup

dark brown sugar

I used light

1/4

cup

granulated sugar

1

large egg

1

teaspoon

vanilla extract

3/4

cup

all-purpose flour

fluffed and scooped

1/2

teaspoon

baking soda

1

teaspoon

cinnamon

1

teaspoon

nutmeg

1/2

teaspoon

salt

if using salted butter, decrease to 1/4

1/2

cup

walnuts

toasted, crushed finely (I used pecans)

1

cup

walnuts

toasted, barely chopped (Again, pecans)

1

cup

raisins

1 1/2

cups

old-fashioned rolled oats
Instructions 
Preheat oven to 350 degrees F. Beat butter and both sugars until creamy. Add egg and vanilla and beat well.

Combine flour, baking soda, cinnamon, nutmeg and salt and mix well. Add oats, raisins, nuts and stir to combine. Shape into 2 dozen balls.

Bake on parchment lined baking sheets for 11-13 minutes.

Makes about 2 dozen cookies, depending on size.