A few weeks ago the Freschetta team sent our family a pizza gift pack.  They've set one aside for a reader, and if you'd like a shot at it then read on.
The point of the coupons was to introduce Freschetta's line of flatbread.   There are four flavors in the line, but Freschetta recommended two in particular – Italian Style and Roasted Garlic.
First we tried Italian Style. It had a sweet and spicy tomato sauce topped with pepperoni, Genoa salami and sausage. The sauce had a distinctive blend of flavors and the crust was light, flakey, and rich – almost like a cross between pie crust, a croissant and pizza dough.  I liked the flavors in the sauce and thought the crust was interesting. 
Next up was the Roasted Garlic and Spinach flavored flatbread.  Our family usually eats pizza as an entrée, so I cut the pizza into thirds and served each section with large salads. This flatbread, with the creamy white sauce, sweet roasted garlic, spinach and cheese was a surprise winner in that the family liked it even better than the Italian style.   It seems like a crowd pleaser and since the flatbread is light yet rich, I may start serving it thinly sliced as an appetizer or party snack.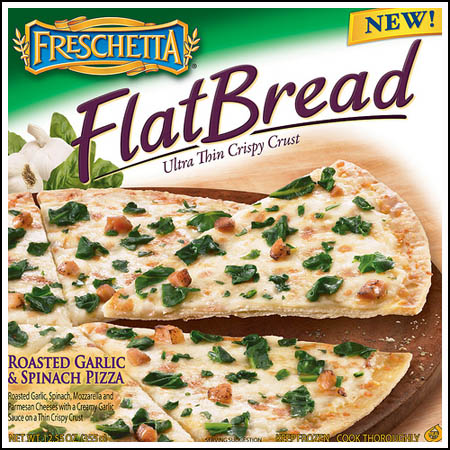 If you like frozen pizza, the new Freschetta flatbreads are worth a try. And if you'd like to a chance at the gift pack (with free coupons), here's what to do.
Write a comment below telling me what you drink with pizza.  I like Sangiovese — especially with tomato based pizzas. I also like Root Beer.
I will pick a comment at random tomorrow night (Tuesday the 18th) at midnight, so if you post after midnight your comment will not be eligible for the gift pack. You can still tell me what you like to drink, though!
By the way, if you've already tried Freschetta pizza and want to say something about it, check out Freschetta's Facebook page and let them know your thoughts.    You can also follow Freschetta on Twitter.
Also, as I write this there's a dollar off coupon on the Freschetta web page.
Related posts: