Certain members of my family (names will go unmentioned) get really excited when they spot the Oscar Mayer Wienermobile parked in downtown Austin. So when this contest appeared in my mailbox I just had to tell you about it. Oscar Mayer wants to give you the scoop on how you can ride SHOTBUN and help feed families in need at the same time. What a great promotion!  Plus, it's super easy to enter the contest and takes about a minute. Read on for a little more info and a link to the simple entry.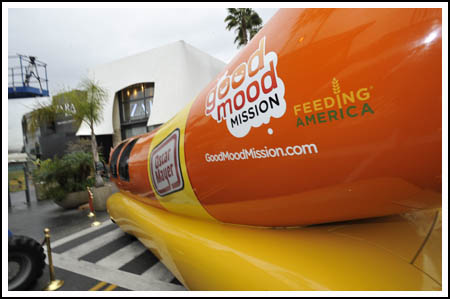 Oscar Mayer says that over the past four months, millions of Americans have joined the Good Mood Mission and have helped them exceed their initial donation goal of 2 million pounds of food for Feeding America. Given that, they've increased their goal to 3 million pounds of food.
Ty Burrell, from Modern Family, has joined the Oscar Mayer Good Mood Mission, to invite America to share what they would do if they could ride SHOTBUN for the day. Four lucky winners will get to ride SHOTBUN in the Wienermobile and $5,000 to help spread their own good moods. From the picture above, it looks like somebody's doing a little mood-lifting at Zara.
To join the mission, click here to enter the contest to ride SHOTBUN (note: there is sound, so if you are in an office turn it down) and tell Oscar Mayer what you would do with the Wienermobile. For every entry, the brand will donate one pound of food to Feeding America, the nation's leading hunger-relief organization.
Feel free to share the contest details with your friends and check out this behind the scenes video as Ty Burrell gets the Wienermobile ready for the lucky winners.
Related posts: